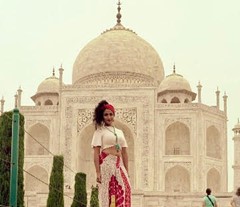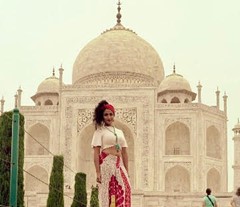 Azgari Lipshy is a yogi by sunrise, a SAAS account manager by day, and a live music fanatic by night. She writes about her experiences while traveling, cooking, yoga, and technology that she finds fascinating.
When you're in India, one place you must visit is the Taj Mahal, and I had the opportunity to visit this amazing structure. It sits proudly in Agra, a city in the northern state of India, Uttar Pradesh. It's such an iconic building that you've had to have seen a photo of it! But with any location, you have to be there, and I'll tell you why. So let me tell you why the Taj Mahal is a must-see for any traveler, and why the Taj Mahal and Agra are two beautiful locations that'll have any traveler staring with marvel.
It's Some of the Most Breathtaking Architecture You've Ever Seen
The Taj Mahal, or Crown of the Palace, stands as gorgeous as it did when emperor Shah Jahan commissioned it in the mid-1600s. In those nearly 400 years, it has gone through its renovations (including the British almost destroying it!) but it has never strayed too far from its source.
One thing I noticed was how the building changed color throughout the day. Was it magic? No, it's science! Due to its marble exterior, the sun and weather conditions can change how we see it. When I first visited, it was a foggy morning that almost looked reddish. Later, the sun started transforming into a grayish color when the sun came out. It'll become yellowish, cream, and even bright white! You must come here at least three times a day to experience its true awe.
But, I would only recommend going inside it once. Why's that? One word: tourists! Since it's one of the most prominent tourist destinations in the world, the lines can get long. When I entered, it was stretching across for blocks! Now, you can get a VIP pass, but even that line was a party going on. From what I've heard, it's like this every day except Friday, when only practicing Muslims can enter.
But as the saying goes, good things come to those who wait! The awe and splendor of the Taj Mahal kept me fascinated to see what was inside, and it was a great distraction until I got to enter. And what did I find when I was inside?
Art. Every bit of the Taj Mahal is a masterpiece. Walls upon walls are etched with gorgeous art, mostly detailing intricate flower designs. So, why the flowers? Did the builder like tiptoeing through the tulips? I was curious, so I asked around. Turns out, in Islamic culture, the flower is considered the symbol of the Kingdom of God. When I realized that this was a gigantic mausoleum, that all clicked.
Wait, What?
Some of my readers may not know much about the Taj Mahal outside of its iconic appearance, so here's a little history lesson from me to you. In 1632, Mughal emperor Shah Jahan commissioned the Taj Mahal to be built as a tomb for his wife, Mumtaz Mahal.
Mumtaz died at the young age of 38 during childbirth, giving birth to their 14th child during a 30-hour labor session. To me, that's one brave mama! I couldn't imagine having 14 children, let alone half of that. And Shah Jahan agreed. He loved her so much, he wanted to build her a tomb as big as her heart.
Imagine, your final resting place being one of the world's wonders. It's so big, that you may wonder if anyone's sharing. Well, not only was it her tomb, but it was also her widower's resting place. The most gorgeous room reveals this, revealing two elegant gravestones. Or are they?
These gravestones are actually cenotaphs, which are markers for people buried elsewhere. Where are they buried? Below, there is a quieter garden area, and in a way, I felt some relief knowing that. I wouldn't want my rest disturbed by all those tourists!
Myths and Facts
I was hungry for more stories, so I asked around and learned there are many myths about the Taj Mahal. Many of the tales people whisper to each other are either exaggerations or outright fabrications. Some of my readers may have even heard one of them and may believe it!
One enduring myth is that after building it, Shah Jahan made it so that all architects involved had their hands and eyes cut out so they could never recreate something so beautiful again. Is there truth to it?
Nope, (and talk about a bad deal if it was), but the construction still holds many facts that may bring wonder to my readers.
For instance, how many people built the Taj Mahal, and how long did it take? A thousand for five years? Five thousand and seven years? Not even close!
It took over 20,000 workers and over 1,000 elephants to construct it Even with that many workers, it still took a whopping 17 years to complete it. Think about your first 17 years, going from a baby to a teen going on an adult. Now, imagine that during that time, you were also watching the most breathtaking building go up. It's very poetic!
It's an Incredible Place to Do Yoga, Too
I could not talk about the Taj Mahal without bringing yoga into it. The Taj Mahal is a hit with yogis like me, and I couldn't help but experience it. You can find several yoga instructors who sell yoga sessions in front of the Taj Mahal. Is it worth it? Yes!
Practicing yoga in front of such a towering monument connects you to the earth in an indescribable way. Doing it in front of the Taj Mahal, I felt at ease like never before, like it was a beacon channeling the good vibes straight to my body. All the stresses of travel just melted away. So, when should you do it? I would recommend doing it early in the morning. Not only is the aesthetic of the misty Mahal gorgeous, but there are fewer people around to distract you.
The Rest of Agra is Gorgeous as Well
With any city, you don't want only to visit the top tourist attraction. Agra is home to many sights you must see. Like what? Let me list some of them. The authentic street food alone is to die for, and you can smell it a mile away. Not only that, some of its natural sights are something to behold. And Agra is also home to many unique shopping centers. I feel like my entire experience is for another post, so I won't leave you hanging for too long.
And with that, I bid you farewell. The Taj Mahal is one of the most beautiful buildings in the world, invoking curiosity and wonder. No high-quality camera will capture the magic of seeing it in person. Because of that, you must see it at least once in your life, so be sure to add it to that bucket list!
About the Author
Azgari Lipshy is a yogi by sunrise, a SAAS account manager by day, and a live music fanatic by night. She writes about her experiences while traveling, cooking, yoga, and technology that she finds fascinating.
Media Contact
Contact Person: Azgari Lipshy
Email: Send Email
Country: United States
Website: http://www.azgari.com