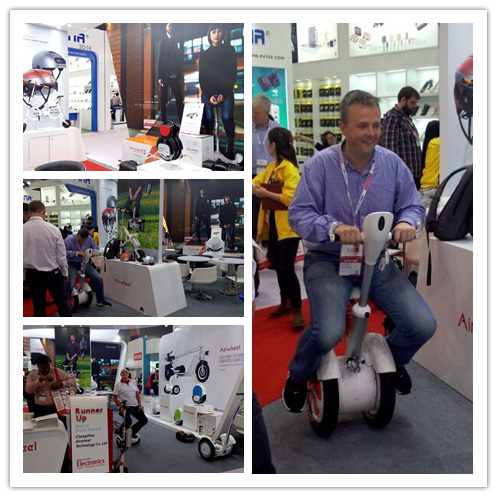 On 11th April, 2016, Hong Kong Global Sources Electronics started. As an exhibitor, Airwheel exhibited several series of products, including the latest products at 3C18 in the Hall3. The service robot, smart helmets and the updated electric scooters are also the highlights in the great exhibition.
During 11th to 14th April, 2016, Hong Kong holds a largest exhibition of Asia, Hong Kong Global Sources Electronics. Airwheel also attended this big fair and exhibited most of its products, including the latest products and the previous products. Among all the products, the new released service robot, smart helmets and the updated electric scooter still shines out in the great fair.
Based on the Z3 two-wheel electric scooter, Airwheel launches the upgraded version Z5 standing up electric scooter. For officer workers and college students, Z5 electric scooter will also be a good choice for daily commuting. Z5 foldable electric scooter for adults provides the comfortable anterior riding posture for riders and also can charge for riders' intelligent devices such as iPhone, iPad or cameras etc. through the USB interface equipped on the battery.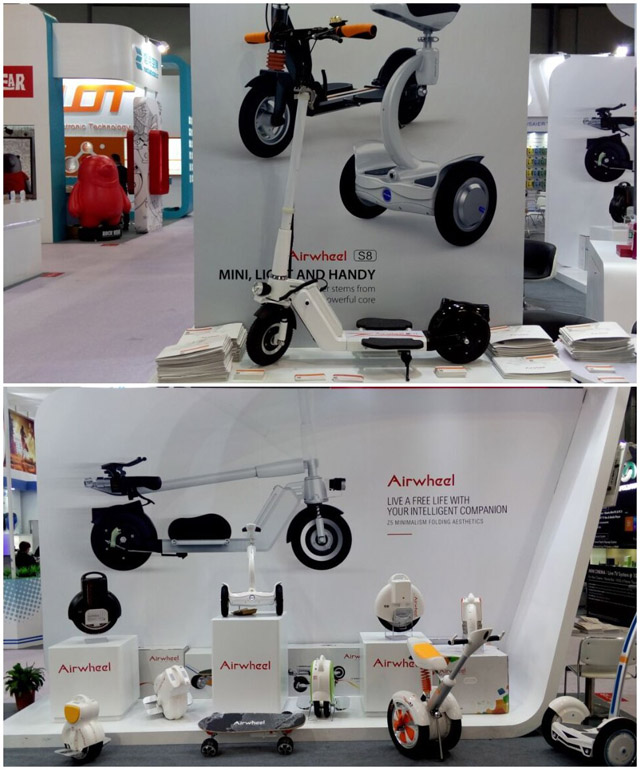 Airwheel S6 sitting posture self-balancing scooter is familiar to most of us. Its multiple riding postures leave riders a good impression. On the basis of this unique electric scooter, Airwheel continues to innovate and launches the double-wheels electric scooter S8. The improvements are reflected in the control lever and the tyres. S8 two wheel electric walkcar adopts the C-shape control lever, not the straight line which can have better loading capacity; it changes the 8-inch tyres into 10-inch tyres which means it can adapt to more road conditions; the pneumatic tyres of S8 can gain better performance of shock absorption.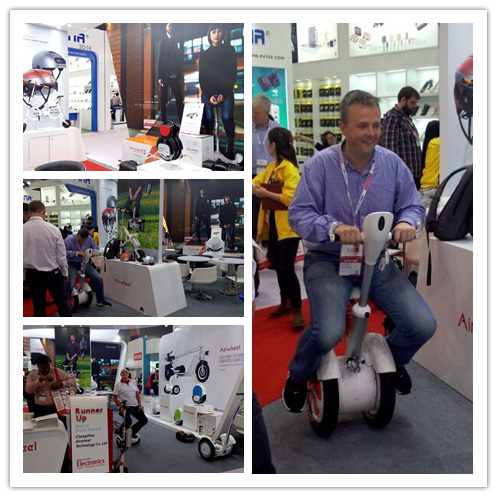 From the above cases, it is easy to find that Airwheel makes great effort in the details for improving riders' riding experience. At the same time, Airwheel marches into the robot market and develops its first service robot S9. Now S9 balance robot can realize the human-computer interaction and avoid obstacles automatically and in the near future it can act as the intelligent assistant. Airwheel always gives us surprises to us. Each product it designed has its unique detail and reveals the charm.
Media Contact
Company Name: Airwheel Technology Holding (USA) Co., Ltd
Contact Person: Eric
Email: sales@airwheel.net
Phone: +8618651968700
Country: United States
Website: http://www.airwheel.net