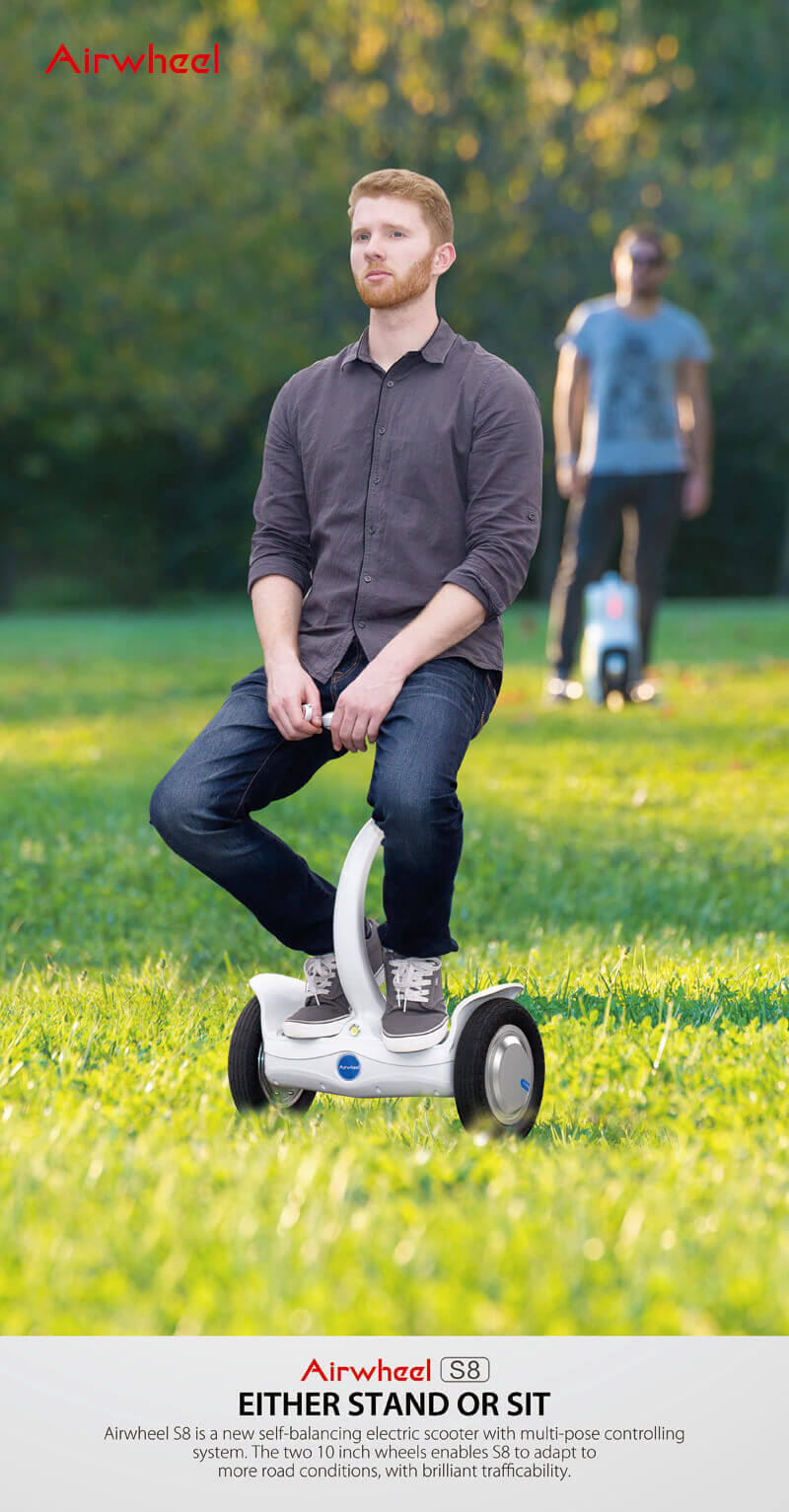 Science and technology always make people live a more relaxed and happier life. When people enjoy the convenience brought by intelligent products, they also can have extra fun. With an intelligent electric scooter, Airwheel S8 electric walkcar, everyone can have the chance to experience the excitement of being a "tech-savvy".
For Airwheel, it is of great importance that developing suitable products to fill the blank between automobiles market and walking. Airwheel invested more efforts into this mission. The design language revealed on products is not only about the story of this enterprise, but also about meeting up the users' real need. Therefore, the main changes of Airwheel S8 electric walkcar are not the speed and the endurance, but the promotion on the comfort level and practicability.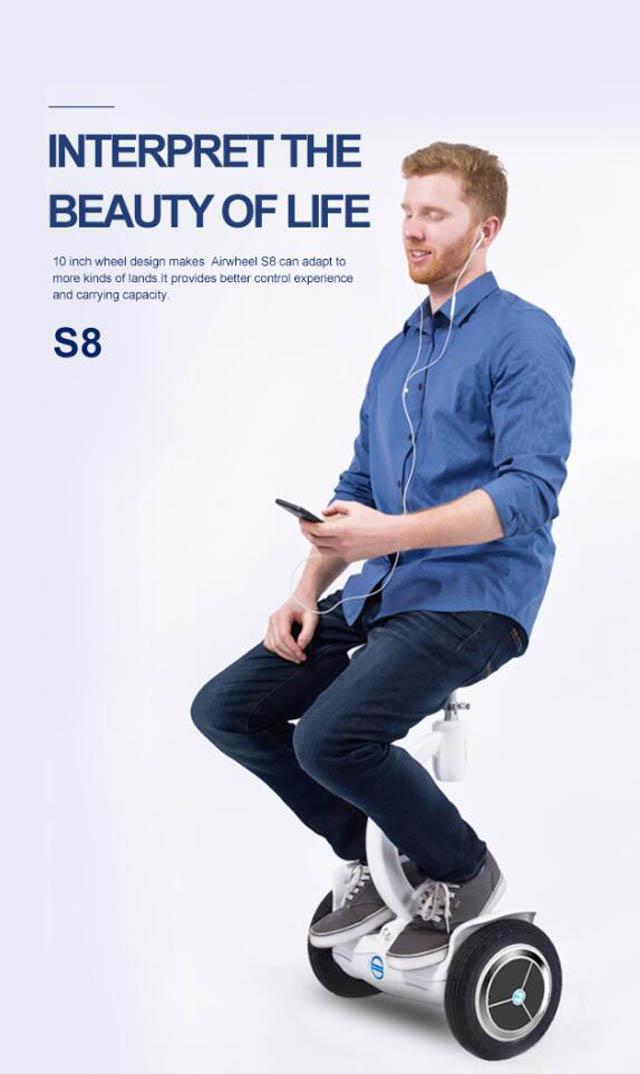 As for a transporting equipment, the adaptability and traffic ability to the roads can not be ignored. In order to cope with more road conditions, Airwheel S8 two wheel saddle-equipped scooter does not follow the design of S6 and it adopts the 10 inches wheels. At the same time, the tyres of S8 electric scooter with seat is not the solid tyres anymore, but the pneumatic tyres that can achieve a better effect of shock absorption.
Apart from the wheels, the control lever of S8 double-wheels electric scooter also adopts the streamlined design. Obviously S8 electric walkcar with the arc shape control lever can attract more attention. The key point is that this design is helpful for optimizing the operating when making turns and letting the action more flexible. In the end, this design allows S8 to have a better loading capacity.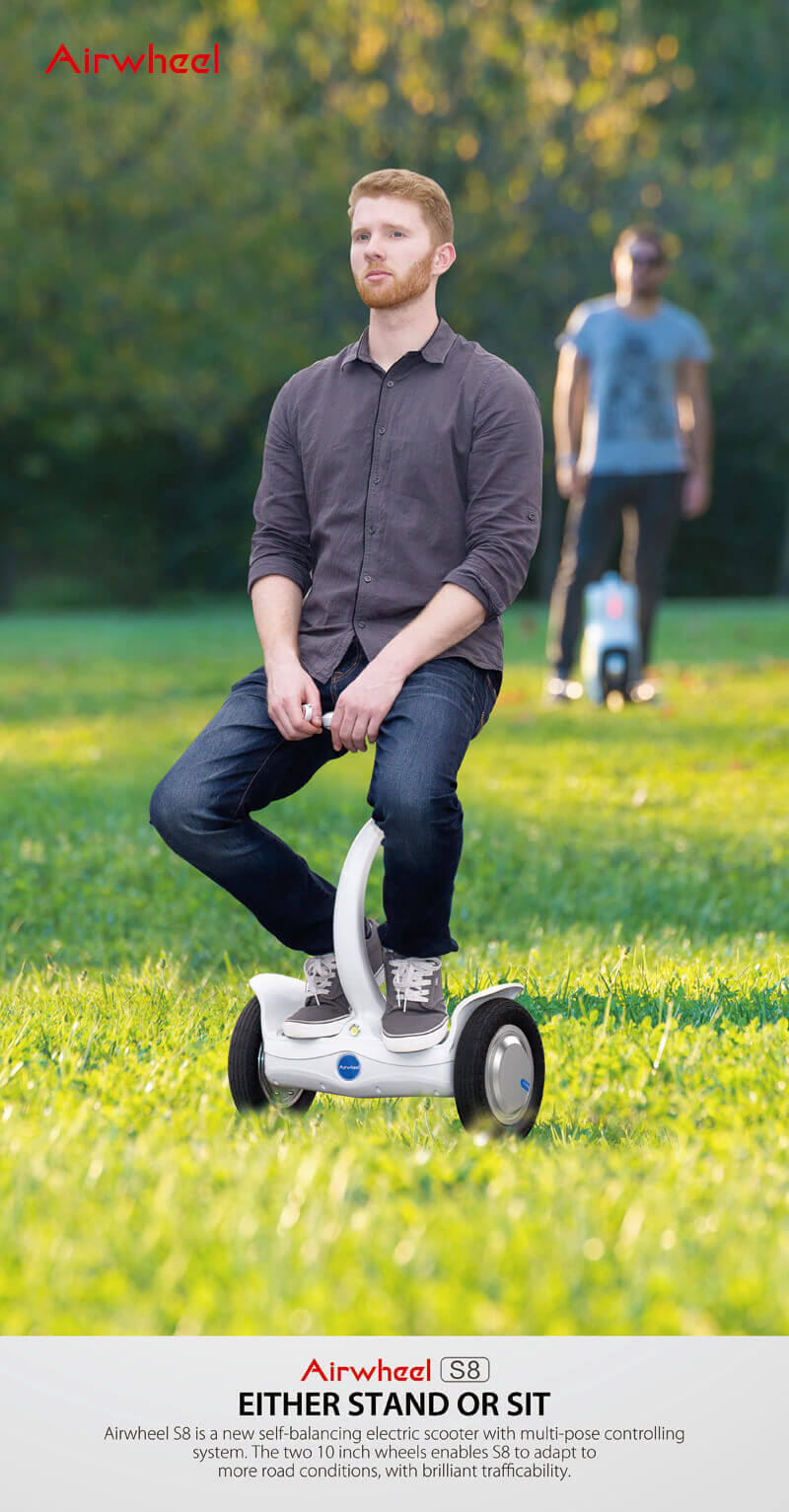 Please do not forget S8 electric walkcar's role, multiple posture self-balancing scooter. Similar to Airwheel S6, S8 saddle-equipped scooter allows riders to sit or stand to ride. Based on this, S8 is also very easy to learn. Light and easy to carry, S8 is suitable for people who live in a crowded city. What's more, the control lever of S8 can be adjusted according to the different statures. Throughout all the details, we can see that Airwheel S8 is more apt to care the promotion of users' riding experience.
Media Contact
Company Name: Airwheel Technology Holding (USA) Co., Ltd
Contact Person: Eric
Email: sales@airwheel.net
Phone: +8618861270200
City: LA
State: CA
Country: United States
Website: http://www.airwheel.net/