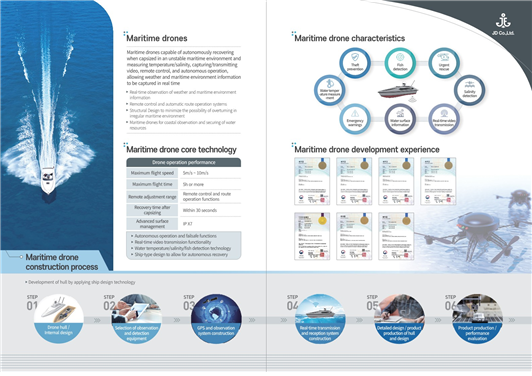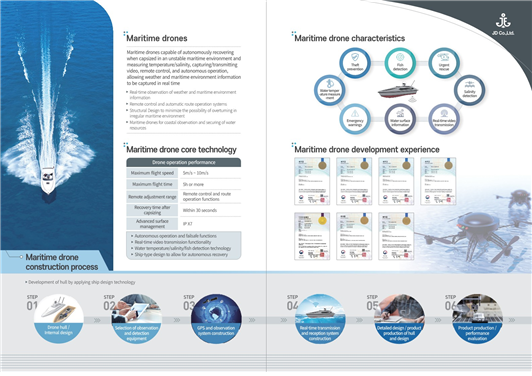 JD Co.,Ltd, located in Jinju, is a shipbuilding design business specialized company that founded 2017, and began working on development of maritime drone after seeing its possibility in 2019.
CEO Park joong-gun(40) was in charge of Design and R&D of a shipyard, and based on 16 years of design experience, he grown up the early JD as a design company.
CEO Park said "Because shipbuilding design field cannot occur sales without order, we decided that business diversification was necessary. and We entered maritime drone field since we estimated it is a Blue-Ocean."
JD started with 0.23B KRW of finance and 3 employees since 2018, and has quadrupled its sales by 1 billion KRW and 12 employees as of 2021.
Korean aquaculture industry is having difficulty in management due to aging and climate change. CEO Park decided that development of maritime drone would facilitate real-time observation and analysis of weather and marine information without the hassle of direct inspection by boat every day.
Currently, JD has developed and selling multi-purpose maritime drone for aquaculture farm management, operating 15 units at aquaculture farm and research institute, etc.
JD's aquaculture farm management maritime drone weights 5kg, operates for up to 5 hours, 3㎧ of maximum speed, and it has differences compared to competitors' products such as water broadcasting, screen transmission, autonomous driving, and rollover prevention.
CEO Park said "Because of the nature of the maritime drone, it has longer operation time and lower cost than air drone. By utilizing our design experience, we have conditions optimized for operation on water such as rollover prevention."
However, CEO Park received a message from the main customer that the water drone should be manually avoided when it finds obstacles such as marine floating objects.
Therefore, he decided it needed technical solutions, JD has transferred the 'obstacle recognition and automatic avoidance function' that Changwon university holding.
Aquaculture farm management maritime drone with automatic avoidance technology would be completed by June.
CEO Park said "After Aquaculture farm management maritime drone equipped automatic avoidance technology are developed, fatigue from having to watch them one by one and manually operate them will be reduced. It would be an innovative product for aging fishing villages."
In the future, JD plans to develop drones and facilities that can be used in various marine-related fields such as undersea topography survey, marine waste and floating materials collection, and oil leakage response.
It is method of apply each facility by mounting it on maritime drones according to its purpose and situation. CEO Park said, "We want to increase the portion of sales of award-winning drones to 70 percent with a goal of 4 billion won in sales by 2025. We will expand to related industries such as smart fishing villages by increasing the size by preoccupying the water drone market."
Media Contact
Company Name: JD Co.,ltd
Contact Person: Park, Joong-gun
Email: Send Email
Phone: +82 55 755 9333
Country: South Korea
Website: http://www.jdmarine.co.kr/kr/index.html