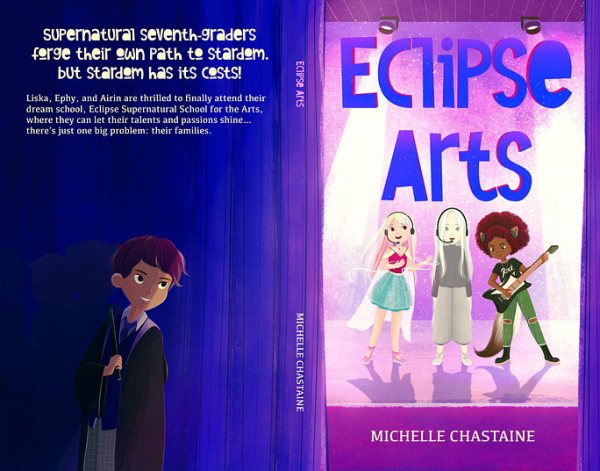 Step into the enchanting realm of middle-grade fantasy with Eclipse Arts, a heartwarming novel by creative author Michelle Chastaine. This mesmerizing tale weaves together themes of dreams, talents, and family challenges, providing readers with a delightful exploration of passion and perseverance against all odds.
A Glance at the Story:
Follow the enthralling journey of Liska, Ephy, and Airin, three remarkable individuals who are thrilled to attend their dream institute, Eclipse Supernatural School for the Arts. Within its hallowed halls, they're free to express their passions and let their talents soar. However, upon embracing their dreams, the trio encounters a certain challenge: opposition from their families.
A Tale of Triumph Over Challenges:
Eclipse Arts is a cozy masterpiece that beckons fans of fantasy fiction to dive headfirst into a world of magic and wonder. Michelle Chastaine's skillful storytelling has crafted a captivating middle-grade adventure tailored for children aged 8 to 12, promising an engaging experience from the very first page to the last.
The story resonates with anyone endeavoring to conquer obstacles on the path to their aspirations. While Liska, Ephy, and Airin are drawn to Eclipse Supernatural School for the Arts, familial expectations, however, cast shadows on their dreams.
Airin, a twelve-year-old non-binary banshee, finds consolation from a family curse through the power of song. Yet, their parents are staunchly against their musical pursuits.
Ephy, a thirteen-year-old half-goddess with vibrant rainbow hair, belongs to a family of influencers. She finds herself at a crossroads between her desire to shine on her own terms and her family's ambition to catapult her to instant stardom.
Liska, a twelve-year-old fox shapeshifter, is enthusiastic for a life steeped in music, but this conflicts with her family's legacy as celebrated dancers.
Eclipse Arts resonates as an embodiment of the human spirit's resilience. Through the characters' unwavering pursuit of their dreams, readers witness firsthand the indomitable power of passion to surmount challenges and emerge victorious.
Unleash your imagination courtesy the eloquent storytelling of Michelle Chastaine, complemented by Liana Tjen's vivid illustrations and intricately crafted characters. Eclipse Arts transports young readers to a world where magic, friendship, and the exciting determination of youthful hearts reign supreme. Themes of resilience, unity, and self-discovery are masterfully woven, which will keep readers enthralled at every turn of the page.
Immerse yourself in an extraordinary journey characterized by a celebration of comradeship, desire, jubilation, and the unbreakable spirit of young adventurers. Eclipse Arts is now available for purchase on Amazon.
For further information, please visit Michelle Chastaine's official website: https://michellechastaine.com/.
Media Contact
Company Name: The Book Publishing Pros
Contact Person: Michelle Chastaine
Email: Send Email
Phone: 770-490-9830
Country: United States
Website: https://michellechastaine.com