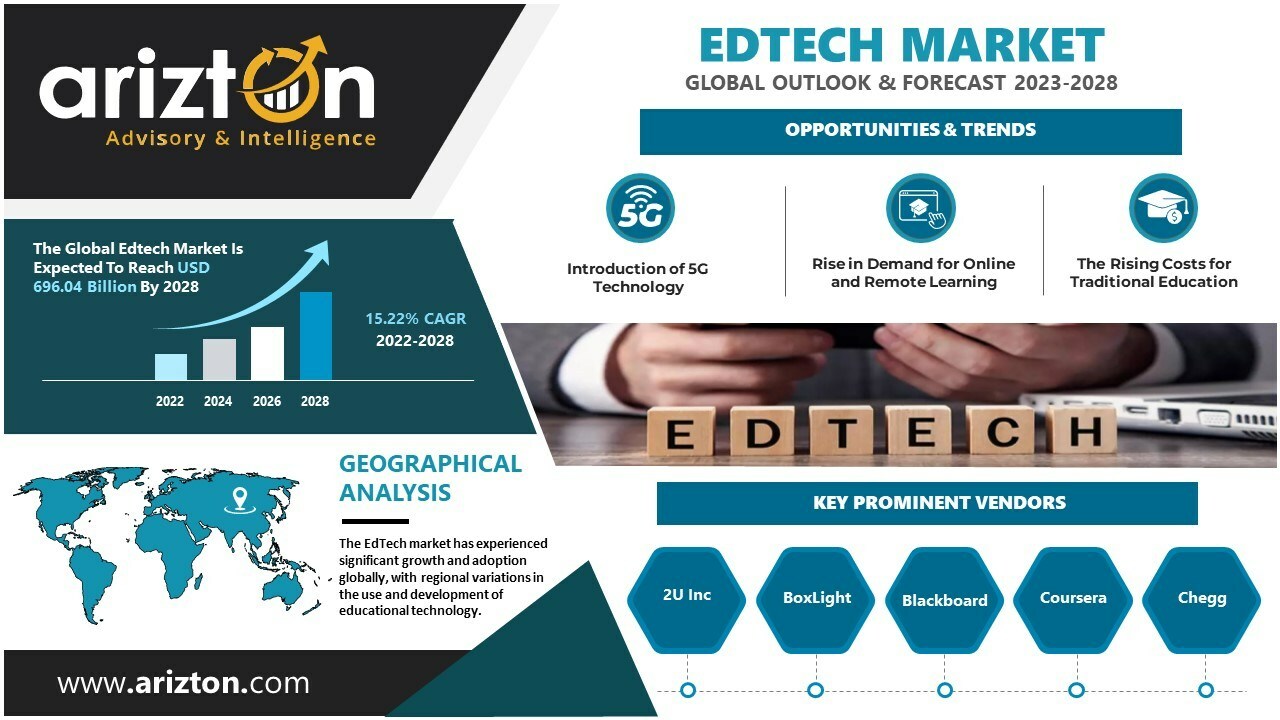 EdTech's Tech-Driven Revolution – Enhancing the Learning Experience"
According to Arizton's latest research report, the Edtech Market will grow at a CAGR of 15.22% during 2022-2028.
To Know More, Download the Free Sample Report: https://www.arizton.com/request-sample/3946
The EdTech industry has been witnessing a digital revolution with the emergence of AI and digitalization. The digital ecosystem has significantly impacted the education sector. Technology has played a major role in education categories serving primary, secondary, and corporate training. The global EdTech market is expected to witness an absolute growth of 137.60% in the upcoming years.
In the global EdTech market, a prominent trend is the increasing emphasis on personalized and adaptive learning. Utilizing AI and machine learning algorithms, EdTech platforms can now analyze individual learner data to offer customized content, assessments, and learning pathways. This trend is rapidly gaining traction as both educators and learners recognize the advantages of tailored learning experiences that cater to individual strengths, weaknesses, and preferences. Additionally, another significant trend is the surge in remote and online learning. The COVID-19 pandemic played a pivotal role in accelerating the adoption of online education, prompting educational institutions and businesses worldwide to transition to digital learning models. Even as we move beyond the pandemic, the enduring flexibility and accessibility of online learning are expected to fuel sustained growth in this market.
Market Trends & Opportunities
Adoption of Hybrid Learning Model & Personalized Learning
The fusion of remote and online learning has given rise to the hybrid learning model, which is now a dominant approach in education. Many online education providers are seeking to incorporate occasional in-person interactions to create a classroom-like experience, while traditional brick-and-mortar institutions are enhancing their offerings with online components, enriching the online learning landscape. This hybrid model is anticipated to see increased adoption in the future. Projections suggest that online education will continue to grow in popularity among students, learners, and professionals due to its convenience in accessing specialized content and opportunities for self-paced learning.
Several factors are contributing to the expansion of personalized learning within the global EdTech market. A primary driver is the increasing demand for tailored learning solutions from both educators and students. As education becomes more intertwined with technology, students increasingly expect learning experiences that cater to their unique preferences and objectives. Furthermore, the continuous advancements in AI and machine learning have simplified the development and implementation of personalized learning solutions. These technologies can analyze student data and behavior to offer personalized recommendations for learning materials and activities. For instance, DreamBox Learning is a personalized learning platform that utilizes adaptive learning technology to customize math instruction for K-8 students. It designs an individualized learning path based on a student's current comprehension level and learning style. Another example is Knewton, an adaptive learning platform that deploys machine learning algorithms to assess student performance data and produce personalized learning suggestions. This platform is adopted by various educational providers, including Pearson and McGraw Hill Education.
Adoption of Virtual & Augmented Reality Pushing the Market Growth
Virtual Reality (VR) and Augmented Reality (AR) technologies are causing a profound transformation in the realm of education delivery, significantly influencing the recent growth of the global EdTech market.
These technologies usher in an exceptionally immersive and interactive learning environment, enabling students to grasp and engage with intricate concepts in a more captivating manner. VR and AR offer a unique avenue to replicate real-world scenarios and offer students hands-on learning experiences.
The US Department of Education has initiated efforts such as the Virtual and Augmented Reality for Education (VARE) program. This initiative provides grants to educational institutions, facilitating the development and integration of VR/AR-based educational programs. Its primary objective is to broaden access to high-quality education and enhance student outcomes.
Buy the Report Now: https://www.arizton.com/market-reports/edtech-market
Post-Purchase Benefit            
1hr of free analyst discussion             
10% of customization     
Key Company Profiles
2U Inc
BoxLight
Byju's
Blackboard
Udemy
Coursera
Chegg
Duolingo
Unacademy
UpGrad
VIP KID
Fujitsu
Promethean World
Ellucian
Red Shelf
Xello
Scoir
Kahoot
BenchPrep
Coassemble
Codecademy
CrossKnowledge
FutureLearn
GoSkills
iHASCO
ITPro
Khan Academy
MasterClass
OpenSesame
Rosetta Stone
Teachlr
DataCamp
BrainStation
Cengage Learning India
Estácio
Telefónica Learning Services
Learnetic
Absorb Software
Noggin Guru
Bridge
Degreed
Easygenerator
Cornerstone
EduMe
Epignosis
ExpertusONE
G-Cube
Gnowbe
iQualify
iSpring
Kallidus
LearnUpon
Mindtickle
Moodle
NovoEd
Neovation Learning Solutions
Schoox
SkyPrep
SmartUp
Epignosis
Teachable
THINKIFIC
Thought Industries
Cisco
Instructure
GP Strategies
Thomson Reuters
Docebo
McGraw Hill
Desire2Learn
Edmodo
Cengage
Macmillan Education
Cornerstone
Educomp
Cogna Educacao
Telefonica
edX
Estacio
SAP Litmos
Open Education
Veduca
LinkedIn (Microsoft)
Simplilearn
Think & Learn (BYJU'S)
LeQuest
FutureLearn
L2P
Chegg
Bright Little Labs
Aula Education
WhiteHat Security
Blinkist
Age of Learning
Elearn Australia
360Learning
Skillshare
Udacity
Pluralsight
Alison
Babbel
Treehouse
Unacademy
Duolingo
Tracxn Technologies
IGNOU
BenchPrep
Coassemble
Codecademy
CrossKnowledge
FutureLearn
GoSkills
iHASCO
ITPro
MasterClass
OpenSesame
Rosetta Stone
Teachlr
BrainStation
Cengage Learning India
Estácio
Telefónica Learning Services
Learnetic
Market Segmentation
Business Models in the Edtech Market
Freemium Business Model
Ad-Based Revenue Model
Free Trial & Subscription-Based Model
Marketplace Model
Institutional Sales Model
Type
Hardware
Software
Technology-Enabled Services
Sector
K-12
Higher Education
Competitive Exams
Certifications
End-user
Individual Learners
Institutes
Enterprises
Geography
China
Japan
India
South Korea
Australia
Singapore
Indonesia
Rest of APAC
France
Italy
Spain
Russia
Rest of Europe
Brazil
Mexico
Argentina
Rest of Latin America
The GCC
South Africa
Nigeria
Kenya
Rest of the Middle East & Africa
Key Questions Answered in the Report:  
How big is the EdTech market?
What is the growth rate of the global EdTech market?
Which region dominates the global EdTech market share?
What are the significant trends in the EdTech industry?
Who are the key players in the global EdTech market?
Get the Detailed TOC @ https://www.arizton.com/market-reports/edtech-market?details=tableOfContents
Why Arizton?   
100% Customer Satisfaction   
24×7 availability – we are always there when you need us   
200+ Fortune 500 Companies trust Arizton's report   
80% of our reports are exclusive and first in the industry   
100% more data and analysis   
1500+ reports published till date   
About Us:                        
Arizton Advisory and Intelligence is an innovative and quality-driven firm that offers cutting-edge research solutions to clients worldwide. We excel in providing comprehensive market intelligence reports and advisory and consulting services.                       
We offer comprehensive market research reports on consumer goods & retail technology, automotive and mobility, smart tech, healthcare, life sciences, industrial machinery, chemicals, materials, I.T. and media, logistics, and packaging. These reports contain detailed industry analysis, market size, share, growth drivers, and trend forecasts.                       
Arizton comprises a team of exuberant and well-experienced analysts who have mastered generating incisive reports. Our specialist analysts possess exemplary skills in market research. We train our team in advanced research practices, techniques, and ethics to outperform in fabricating impregnable research reports. 
Media Contact
Company Name: Arizton Advisory & Intelligence
Contact Person: Jessica
Email: Send Email
Phone: +1 302 469 0707  
Country: United States
Website: https://www.arizton.com/market-reports/edtech-market