Weeks and Irvine have just one goal: to remain the go-to law firm for existing and potential real estate clients in South Carolina. Their commitment to service and to Their clients is deep and is demonstrated by long-term relationships with their clients.
Whether someone is buying a home or another property for the first time or they have prior experience with such transactions, it helps to have an experienced real estate attorney to guide them through the process. The real estate lawyers at Weeks & Irvine, LLC, help clients in the market to buy or sell real estate, and many people naturally have many questions about the process.
In addition, many people have questions about whether or not they require an estate plan and how this process works with an estate planning attorney.
Below are some common questions and brief answers about how a real estate lawyer or estate planning lawyer can help. It is always wise for anyone considering a transaction to speak with an experienced attorney directly for answers more specific to their individual situation.
What does a real estate lawyer do?
When someone thinks about professionals helping with real estate deals, they might assume they need a real estate agent only. However, South Carolina is one of the states that require people to hire a real estate lawyer. Moreover, state law requires that the attorney is present at closing.
In addition to overseeing and explaining everything at closing, a real estate attorney can assist with title searches, title insurance, and other potential title issues. They can also review all title and purchase agreements, make sure everything is recorded properly, and address any concerns over the terms of the transaction.
When a person purchases or sells real estate, there should be no surprises, which is where an experienced real estate lawyer comes in.
When is a real estate lawyer necessary?
When purchasing or selling real estate, people need a real estate attorney at closing under South Carolina law. It is wise for them to seek help from an attorney prior to closing, as well, to examine the title and address any other areas of possible concern. No one should ever sign any documents regarding a real estate transaction without the guidance of a real estate lawyer.
If someone does file a title claim once after a real estate purchase, the new owner should never wait to get legal help. This can be a costly situation, and an attorney can determine how to best defend against the claim and utilize title insurance.
Anyone considering entering into a real estate transaction or who has one pending should get a lawyer involved from the start. They should reach out for a consultation with a real estate law firm and ask any questions they have. Such questions might involve the attorney's experience, cost, and how they handle similar real estate cases.
What can a real estate lawyer do in a closing?
A real estate lawyer should have reviewed all documents prior to closing, so there should be no surprises. However, the lawyer will be present at closing to ensure everything progresses smoothly. An attorney can review all paperwork to ensure it matches what their client agreed to. They can ensure that title passes properly and the client has title insurance. They can explain everything the client is signing and answer any questions that come up. The right attorney makes the closing process less confusing or concerning for buyers and sellers, and they can handle any hiccups that arise.
What is title insurance?
Title insurance provides coverage in the event a title defect leads to a claim on the property title. One type of title insurance policy protects property owners and their investments, and the other type protects mortgage lenders and the collateral for the mortgage loan. These policies are generally affordable with a one-time premium, but they can save real estate purchasers significant funds should an issue come up.
Even a thorough title search can fail to identify hidden title defects that can later result in costly ownership challenges. Several different types of title claims can arise, and while they vary, they can all cost substantial resources. Owners risk spending money and time defending against a claim and, if unsuccessful, they might lose the property altogether. Title insurance covers defense costs, as well as the losses owners, incur due to a valid title claim.
In the end, it is always worth it to purchase title insurance, and a real estate lawyer can advise on the best policy for a particular situation.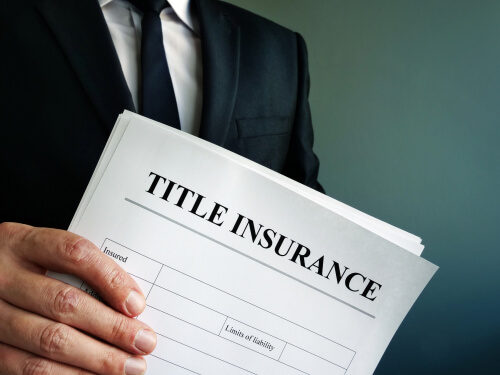 Why does an adult need an estate plan?
Estate planning is not only for the wealthy or those who are senior citizens. Any adult should have a will and should consider additional estate planning documents with help from an estate planning lawyer. An estate plan will help if:
They become ill or injured and cannot manage their financial or legal affairs
They become ill or injured and cannot make healthcare decisions on their own
They need end-of-life care
They pass away
An estate plan does much more than dictating who gets what after someone passes away. An estate plan will ensure that someone has proper assistance if they become temporarily or permanently incapacitated. They can form a trust to help keep much of their estate out of the probate process. They can also use the estate plan to set up their wishes for any minor children should they need a guardian.
If someone passes away without an estate plan – even if they are younger and have no children – it can be more stressful for their family. Having an estate plan can benefit an individual, their property, and their loved ones in many ways.
How can an estate lawyer help?
If someone needs to create or update an estate plan, they want an estate lawyer to guide them. The documents in a comprehensive estate plan can be complex and can include:
Last will and testament
Living trust
Powers of attorney
Living will
An experienced attorney can ensure that all documents are created in compliance with South Carolina state law, which minimizes the chances of conflicts at a later time. If anyone needs assistance with estate administration once a loved one passes, an attorney can help navigate this process and address any disputes that might arise with family members or creditors. To learn more, individuals should reach out to an estate attorney directly as soon as possible.

Media Contact
Company Name: Weeks & Irvine LLC
Contact Person: Mark Weeks
Email: Send Email
Phone: 8435539800
Address:8086-B, Rivers Avenue
City: North Charleston
State: South Carolina
Country: United States
Website: https://www.weekslawfirm.net/