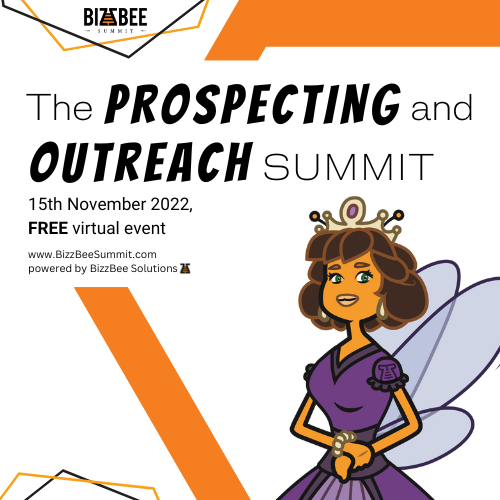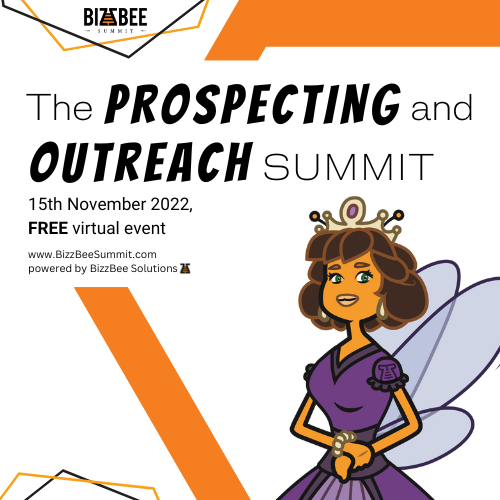 Grab your free virtual seat at the very first 'Prospecting and Outreach' Summit and find out how to ace your B2B sales scores.
An online event gathering renown leaders from around the world, that will share their expert opinion on all the tricky and hot prospecting and outreach topics. This event will surely change the course of modern prospecting.
Fill your sales funnel & grow your business with successful Prospecting & Outreach
By improving and strategizing the prospecting and outreach process, companies can drive positive change for business operations, resulting in higher productivity, exponential growth, and impactful work.
The summit will be a FREE, whole-day event, held online on 15th November, 2022.
The Prospecting and Outreach Summit is the brainchild of BizzBee Solutions, welcoming world-famous experts in the field of Sales & Business Development, Prospecting & Outreach, and Growth enthusiasts.
12 speakers from 7 countries around the globe!
Listen to Becky Davidson (USA) – Sales strategist, coach, and owner of Motivation Marketing, Juergen Stichenwirth (AUS) – Founder & CEO at VendoSolutions, Borce Manev (MKD) – Growth hacker and CEO & Founder at IMA, Vikram Rajan (USA) – President of Practice Marketing, Inc., and Co-founder of Videosocials, B, Martin J Williams (UK) – A mastermind of turning strangers into clients for consulting firms, Vasko Karangeleski (MKD) – A Growth enthusiast, Certified Management Consultant, MBA & Passionate entrepreneur, Relja Denić (SRB) – CEO of Skylead, Andi Jarvis (UK) – a strategy director running intensive strategy workshops and a people development program to help marketers design, develop and implement an effective marketing strategy and many others!
It's a rare chance to see so many renowned experts in one place discussing such hot and trending business topics and be part of an event that will change the course of modern prospecting.
This ground-breaking event will cover B2B topics, such as:
• Prospecting Tools & Automation
• Outreach message & content creation
• Outbound channels: LinkedIn vs Email vs Cold Calling
• Prospecting-as-a-Service (PaaS)
• Building a career in prospecting
• Enterprise prospecting and SDRs best practices

Find out more about the Summit and save your spot here: https://bizzbeesummit.com/.
Media Contact
Company Name: BizzBee Solutions
Contact Person: Dancho Dimkov
Email: Send Email
Phone: +389 22 778 815
Address:Str. 1512 No. 1, Entrance 1 Office No. 26 & 27
City: 1000 Skopje
State: Republic of North Macedonia
Country: Macedonia
Website: https://bizzbeesummit.com/