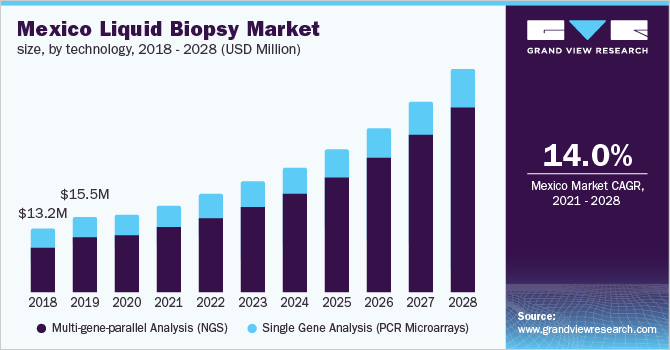 According to a new report published by Grand View Research, liquid biopsies can reduce the risk of COVID-19 transmission during the procedure, which is expected to be a major factor fueling the global liquid biopsy industry growth.
The global liquid biopsy market size was valued at USD 7.03 billion in 2020 and is expected to reach USD 19.35 billion by 2028, registering a CAGR of 13.5% during the forecast period.
The increasing prevalence of cancer coupled with the rise in demand for fast, minimally invasive diagnostic tests drives the market growth. According to the American Cancer Society, in 2021, 235,760 people are estimated to be diagnosed with non-small-cell lung cancer, the most common form of lung cancer in the U.S. Overall, around one in 17 men and one in 15 women are at risk of developing lung cancer in their lifetime. Thus, the need for the implementation of liquid biopsy tests is growing to diagnose and eradicate cancer in a target population.
Gather more insights about the market drivers, restrains and growth of the Global Liquid Biopsy Market
With the onset of the COVID-19 pandemic, cancer diagnoses are getting delayed as diagnosis services and screening programs have reduced. Cancer patients are facing many challenges amid the pandemic, such as susceptibility to severe infection and interruption of cancer or usual medical care.
Amidst the pandemic, several companies have adopted various strategic initiatives for providing safe and easy in-home access for liquid biopsy tests. For instance, in November 2020, NeoGenomics, Inc. launched a mobile phlebotomy service for liquid biopsy tests, including NeoLAB and InvisionFirst.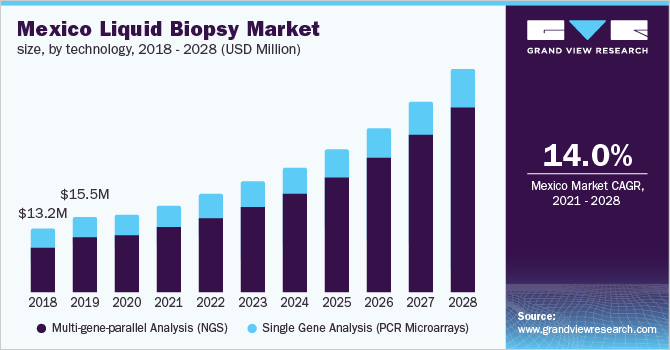 The company offers its service through two phlebotomy companies, ExamOne and Metro Health Staffing LLC, for broad geographic coverage to ensure tests are performed efficiently. In these cases, liquid biopsy provides an efficient alternative to traditional screening. The technology assists in early cancer detection and prevents the disease to reach a stage when it can adversely affect a patient's survival. Liquid biopsies are extremely sensitive and are based on blood tests. In addition, they can reduce the risk of COVID-19 transmission during the procedure, which is expected to be a major factor fueling the global market growth.
Researchers from Cornell University are developing a liquid biopsy test that can detect and measure injury to cells, tissue, and organs due to COVID-19. The test is to evaluate the severity of the disease and project their outcomes. In addition, it can reveal the involvement of various organs in the disorder. This is expected to increase R&D funding, further stimulating market growth.

Liquid Biopsy Market Segmentation
Based on the Sample Type Insights the market is segmented into Blood Sample Based, and Others
Blood sample-based tests dominated the market with a revenue share of over 69%. A blood-based test is non-invasive, has no risk, and is painless.
The circulating biomarkers in blood play a vital role in understanding tumorigenesis and metastasis, which further can help determine tumor dynamics at the time of treatment and disease progression.

Based on the Technology Insights the market is segmented into Multi-gene-parallel Analysis (NGS), Single Gene Analysis (PCR Microarrays)
The Multi-gene-parallel Analysis (NGS) segment accounted for the largest revenue share of over 73% of the global market in 2020 and is anticipated to maintain its dominance over the forecast period.
The rapid developments in NGS technology have led to significant cost reduction in sequencing with high accuracy.

Based on the Biomarker Insights Insights the market is segmented into Circulating Nucleic Acids, CTC, Exosomes/Microvesicles, Circulating Proteins
Circulating Nucleic Acids accounted for the largest revenue share of 36.68% in 2020. Wide applications of circulating tumor DNA (ctDNA) in liquid biopsy of cancer drives the segment.
Exosomes/Microvesicles are anticipated to grow with the fastest CAGR from 2021 to 2028. A rise in the adoption of exosomes as a liquid biopsy in oncology clinical diagnosis coupled with the introduction of novel products drives the segment growth.

Based on the Regional Insights the market is segmented into North America, Europe, Asia Pacific, Latin America & Middle East & Africa
North America accounted for the largest revenue share of over 51% in 2020. The regional market is led by the U.S. owing to greater investments and the presence of a number of biotechnology companies developing the tests.
Canada follows the U.S. in the adoption of liquid biopsy tests, as FDA-approved tests are permitted to be used in the country.

Market Share Insights
September 2021: miR Scientific presented data for its miR Sentinel Prostate Cancer Test at the American Urological Association's (AUA) 2021 Annual Meeting.
June 2021: BioMark Diagnostic Solutions, Inc. received USD 825,000 funding to develop BioMark's liquid biopsy assay for screening lung cancer.
Key Companies Profile:
Players operating in the market are contributing to market growth by expanding their cancer diagnostics portfolios, which is leading to an increase in the uptake of their proprietary liquid biopsy products.
Some of the key players of the global liquid biopsy market are:
QIAGEN
Myriad Genetics, Inc.
BIOCEPT, Inc.
Guardant Health, Inc.
F. Hoffmann-La Roche Ltd.
Illumina, Inc.
Angle plc
Oncimmune
Thermo Fisher Scientific, Inc.
Lucence health Inc.
FreenomeHoldings, Inc.
EPIGENOMICS AG


Order a free sample PDF of the Liquid Biopsy Market Intelligence Study, published by Grand View Research.

About Grand View Research
Grand View Research is a full-time market research and consulting company registered in San Francisco, California. The company fully offers market reports, both customized and syndicates, based on intense data analysis. It also offers consulting services to business communities and academic institutions and helps them understand the global and business scenario to a significant extent. The company operates across multitude of domains such as Chemicals, Materials, Food and Beverages, Consumer Goods, Healthcare, and Information Technology to offer consulting services.
Web: https://www.grandviewresearch.com/
Media Contact
Company Name: Grand View Research, Inc.
Contact Person: Sherry James, Corporate Sales Specialist – U.S.A.
Email: Send Email
Phone: 1888202951
Address:Grand View Research, Inc. 201 Spear Street 1100 San Francisco, CA 94105, United States
City: San Francisco
State: California
Country: United States
Website: https://www.grandviewresearch.com/industry-analysis/liquid-biopsy-market