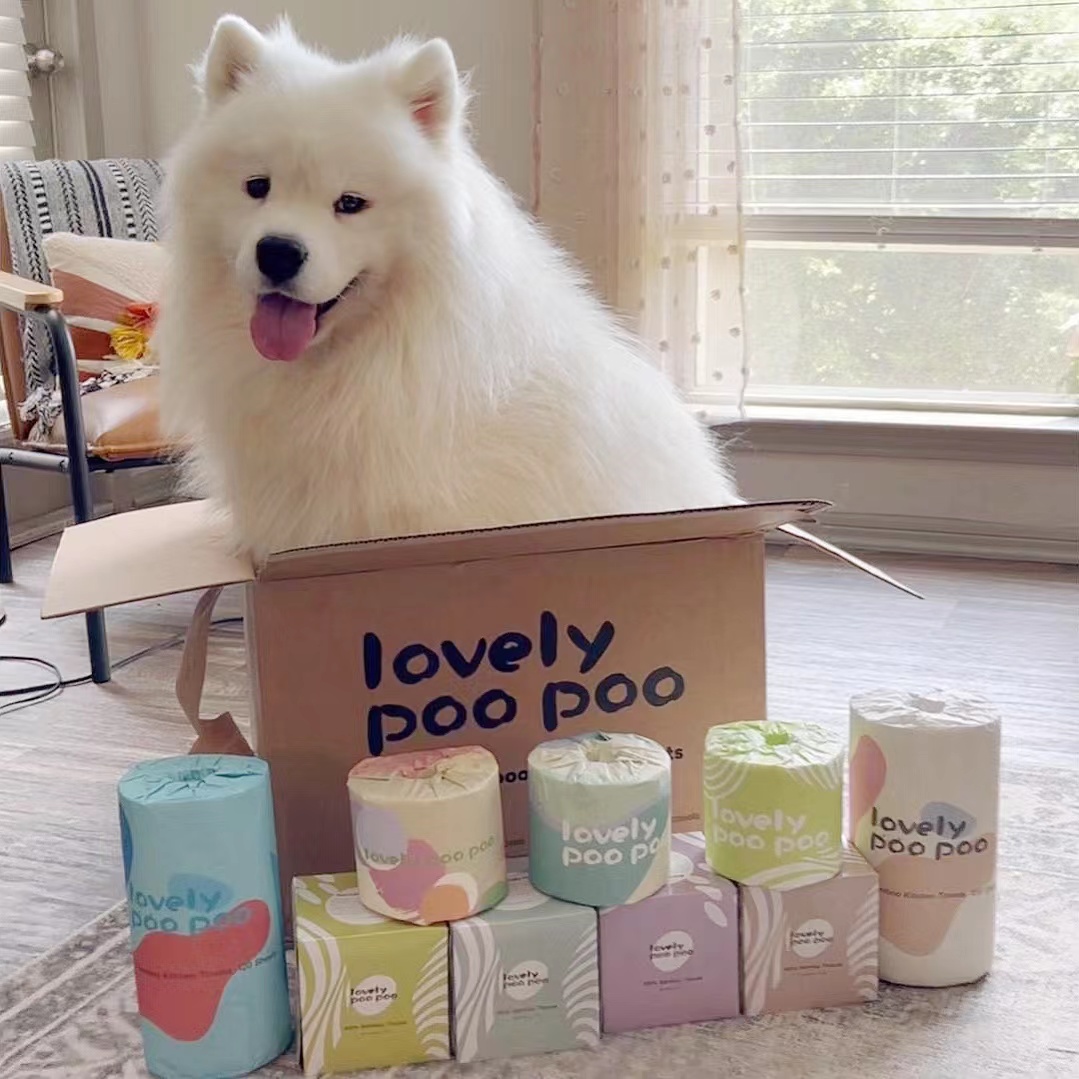 Lovely Poo Poo, a leading eco-friendly online store announces a new soft and strong toilet paper product. The company's 3-ply toilet paper is made of 100% natural bamboo fibers; no trees are cut down during production. This makes Lovely Poo Poo's toilet paper one of the most environmentally friendly products on the market. Lovely Poo Poo is one of the best biodegradable toilet paper producers, dedicated to eco-friendly toilet paper for daily necessities.
The emergence of bamboo products in our daily lives is not only to protect the environment but also to improve people's health. Bamboo has many biological functions, such as germ inhibition and antibacterial activity. It has the ability to kill germs, lowering the risk of microorganism infection and improving the cleanliness and hygiene of living spaces, as well as improving health. Bamboo toilet paper, for example, is a kind of eco-friendly toilet paper made from bamboo material and contains a three-ply structure. As one of the best biodegradable toilet papers on the market, Lovely Poo Poo toilet paper is soft and highly absorbent while promoting a healthy way of living.
The company behind eco-friendly toilet paper, Lovely Poo Poo has been dedicated to providing high-quality, sustainable toilet papers that are environmentally sustainable. As a socially responsible enterprise, Lovely Poo Poo has been dedicated to developing green products since its foundation and has become a leading global player in this industry by providing high-quality eco-friendly products such as toilet paper with a 3-ply structure, 100% recycled paper facial tissue, and hand towels that are free from chemical dyes or bleaching processes.
"Our goal is to contribute towards making a better world through environmental sustainability, which means we do not cut any trees." a Lovely Poo Poo spokesperson explained. "Our toilet paper products are made from 100% natural bamboo fibers. It is strong enough to be used as household paper, yet soft enough for sensitive skin." Furthermore, Its long fibrous strands make it the most biodegradable toilet paper on the market—it breaks down naturally within 4 to 6 months. This means that Lovely Poo Poo's toilet paper breaks down into organic matter more quickly than regular tissue or recycled paper.
There is also a growing movement to preserve resources, especially in developed countries. In the past, toilet paper was made with wood pulp or cotton. But these papers were not degradable, and although they didn't pollute the environment immediately, they did over time. Nowadays, toilet paper is made with a variety of recycled materials. Some are even made from trees that have been cut down for other purposes (like construction). This type of toilet paper can be used in lots of ways after it has served its primary purpose.
Lovely Poo Poo manufactures and distributes premium eco-friendly toilet paper made with 100% natural bamboo fibers. The company was founded in 2021 by a group of talented designers and environmental activists who share a passion for sustainability. For more information about Lovely Poo Poo and its eco-friendly toilet paper, please visit https://www.lovelypoopoo.com/collections/toilet-paper.
Media Contact
Company Name: POOPOO INC.
Email: Send Email
Address:100 N HOWARD ST STE R
City: SPOKANE
State: WA, 99201
Country: United States
Website: www.lovelypoopoo.com