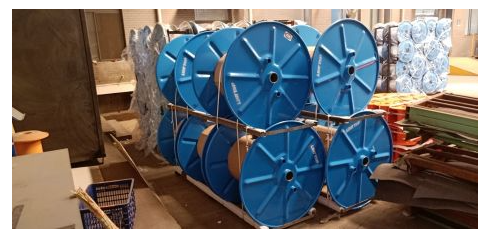 In March 2022, LINT TOP has received the 2nd order of 1000mm punching bobbin from our new Macedonian customer, and the 3rd order for a 630mm ABS bobbin.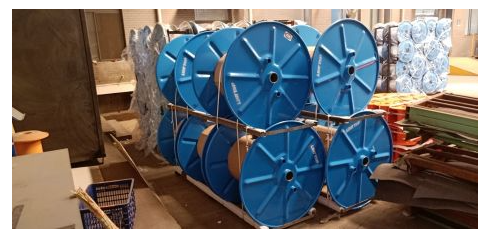 This customer purchased LT1000 double twister cabling machine last year, the machine will be used for twisting of 5*6mm2 insulated cable. The customer consulted many different suppliers and finally chose the most cost-effective LINT TOP equipment.
The take-up of this stranding machine is 1000mm, and the pay-off is a 5-head 630mm pay-off frame.
So customer continue to order 1000mm punching bobbin and 630mm ABS bobbin from us.
In fact, the customer consulted the 630mm metal bobbin at the same time, but LINT TOP suggest that the customer choose the 630mm ABS bobbin.
Because the customer is twisting the insulated cable, the 630mm ABS bobbin can meet the customer's requirements, and the ABS bobbin is more convenient to operate when loading and unloading the bobbin, and the cost is lower than metal bobbin.
LINT TOP is very pleased that thier customer has accepted their advice and highly appreciate LINT TOP's expertise in wire and cable production machines.
The benefits of customers have always been the first consideration of LINT TOP.
Now the 1000mm punching bobbin and the 630mm ABS bobbin have been finished production, here are the photos of the bobbin for reference.
LINT TOP is now arranging the shipment of stranding machines and bobbins for their customer.
Media Contact
Company Name: LINT TOP CABLE TECHNOLOGY CO., LTD
Email: Send Email
Phone: +86-516-85715085
Address:Quanshan Economic Development Zone
City: Xuzhou, 221006
Country: China
Website: https://www.linttop.com/