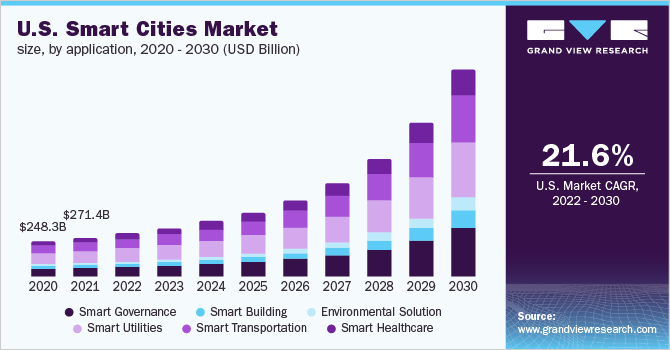 According to a new report published by Grand View Research, the key players are launching products to develop and deploy customized smart city solutions in the areas of city surveillance, energy management, smart transportation, and smart utilities, among others.
Smart Cities Industry Overview

The global smart cities market size was valued at USD 1,090.64 billion in 2021 and is expected to reach USD 6,965.02 billion by 2030, registering a CAGR of 24.2% over the forecast period. The growing urbanization, need for efficient management and utilization of resources, public safety concerns, and increasing demand for a healthy environment with efficient energy consumption are anticipated to be the key driving factors for the growth. Owing to the outbreak of the COVID-19 pandemic, several countries followed strict lockdowns, shutdowns, and mobility restrictions to avoid spreading the virus. The dependence of the global economy on urban areas and the oversight in keeping public healthcare a priority in smart city visions have been brought to light during the pandemic. Moreover, COVID-19 has affected the healthcare and energy industries worldwide. However, these industries are trying to adopt emerging technologies such as artificial intelligence and the Internet of Things (IoT) to overcome the challenges faced due to the pandemic.
As per the "2019 World Urbanization Prospects" report published by the UN Department of Economic and Social Affairs (UN DESA), the present urban population of 55.7% is anticipated to increase to 68.4% in 2050 globally. The need for sustainable infrastructure due to increasing population and urbanization has become a prime driver for the growth of the market. Governments worldwide are trying to tackle these growing population and rapid urbanization problems through smart city initiatives across functional segments such as utility management, mobility, and safety. Moreover, the initiatives by the governments have provided momentum to smart city projects across several regions. Further, financing and funding models, infrastructure development, and governance systems are also playing a key role in fueling the growth of the smart cities market.
Gather more insights about the market drivers, restrains and growth of the Global Smart Cities market
The market growth can be attributed to the growing adoption of nanotechnology, artificial intelligence, machine learning, IoT, cloud computing, cognitive computing, big data analytics, and open data. Moreover, the growing implementation of different Public-Private Partnership (PPP) models such as Organizational Behavior Management (OBM), Build, Own, Operate (BOO), Build-operate-transfer (BOT), and Bill of Materials (BOM) is driving the successful execution of smart cities projects. Moreover, several government initiatives worldwide are anticipated to further drive market growth. For instance, in December 2021, the UAE government has achieved a 100% paperless government transformation under the Smart Dubai Plan 2021.
Though smart city projects require the use of a diverse set of technologies, such as IoT, artificial intelligence, and intelligent sensors, to monitor city infrastructures, the application areas vary across projects and from community to community or city to city. The need for improving resilient cities, reducing energy, and concern over the proliferation of environmental wastes are the major driving factors for adopting smart city solutions. Furthermore, the vendors invest significant resources toward Research & Development (R&D) activities to establish new technologies and systems for connected infrastructure to be used across smart cities projects. The leading technology companies, such as Siemens AG, Cisco Systems, and International Business Machines Corporation, are vigorously investing in R&D activities related to connected infrastructure in smart city development worldwide.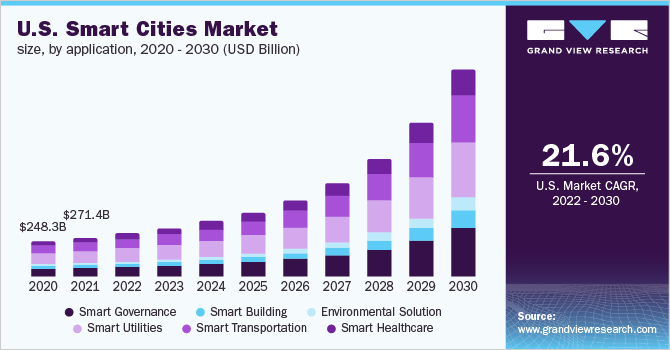 The increasing penetration of artificial intelligence, machine learning, big data, and blockchain is creating potential growth opportunities for the market and has enabled innovation by integrating the internet across routine human functions. These advanced technologies facilitate enhanced security, efficient resource management, and timely intervention during emergencies. In the upcoming years, advancements in artificial intelligence are expected to lay the foundation for the further development of disruptive technologies, which would eventually enhance the human lifestyle to a significant extent globally. Moreover, the innovations such as electric vehicles (EV) and renewable energy are expected to contribute significantly to the market growth. Thus, over the forecast period, technology proliferation is likely to boost the smart city infrastructure growth prospects.

Smart Cities Market Segmentation
Based on the Application Insights, the market is segmented into Smart Governance, Smart Building, Environmental Solution, Smart Utilities, Smart Transportation, and Smart Healthcare.
The smart transportation segment accounted for a market share of over 20% in 2021. With the rising traffic congestion due to rapid urbanization, the need to manage infrastructure and assets is prompting countries worldwide to invest in smart transportation solutions.
The smart governance segment is expected to witness significant growth over the forecast period. The market takes into account the smart technologies adopted and deployed by the government sector to improve transparency, accountability, collaboration, security, and citizens' participation in the overall governance process by creating a progressive government-public partnership.

Based on the Smart Governance Insights, the market is segmented into City Surveillance, CCS, E-governance, Smart Lighting, and Smart Infrastructure.
The city surveillance segment accounted for a revenue share of over 20% in 2021. City surveillance is a critical parameter in developing a smart city mission for monitoring and managing public assets, transportation systems, citizens, civil bodies, and other community services.
The Command and Control Center (CCC) segment is anticipated to witness significant growth with a CAGR of 21.4% over the forecast period. All the smart city applications and systems, including city surveillance, Intelligent Traffic Management System (ITMS), smart lighting, smart parking, energy management, and waste management solutions, are accessed and monitored from the CCC center.

Based on the Smart Utilities Insights, the market is segmented into Energy Management, Water Management, and Waste Management.
The energy management segment dominated the smart utilities segment in 2021 and accounted for a revenue share of over 55%. The increasing energy demand has sparked the adoption of virtual power plants, which operate on artificial intelligence, machine learning, and IoT to provide high security and efficiency.
The water management segment is anticipated to witness significant growth over the forecast period. The rising concerns for sustainable living led to the introduction of regulations and laws by several governments across the globe to implement water management solutions in their cities with system integrators and OEMs.

Based on the Smart Transportation Insights, the market is segmented into Intelligent Transportation System, Parking Management, and Smart Ticketing & Travel Assistance.
The Intelligent Transportation System (ITS) segment accounted for the largest share of over 45% in 2021. The need for presenting real-time traffic information to drivers and passengers is one of the key factors driving the demand for ITS.
The parking management segment is expected to witness a significant CAGR of 24.6% over the forecast period. The growing number of vehicles in cities makes it difficult for traffic departments to manage traffic congestion problems.

Based on the Smart Cities Regional Insights, the market is segmented into North America, Europe, Asia Pacific, Latin America, and Middle East & Africa
North America held the major share of over 30% of the global smart cities market in 2021. The growth can be attributed to the continuous digital transformation across various industry verticals such as telecom, retail, and banking.
Asia Pacific is expected to witness a significant CAGR of 27.7% over the forecast period. The region's growth can be attributed to the increased focus on developing digital infrastructure. Moreover, growing urbanization, economic developments, globalization, and a rise in disposable income are further expected to propel the regional market growth over the forecast period.]

Market Share Insights:
October 2021: Siemens acquired Wattsense, a French provider of plug-and-play IoT management systems. This acquisition expanded Siemens' building automation offering for small and mid-sized buildings.
August 2021: Schneider Electric launched EcoStruxureTM Rail in India. This solution enhances smart management, provides electrical safety, and improves energy efficiency by up to 25%.

Key Companies Profile:
The industry is expected to witness a rise in small companies that address the niche markets and provide customized solutions with limited scope. However, the marketplace will still be dominated by large technology corporations.
ABB Limited
AGT International
AVEVA Group plc.
Cisco Systems, Inc.
Ericsson
General Electric
Honeywell International Inc.
International Business Machines Corporation
Itron Inc.
KAPSCH Group
Huawei Technologies Co., Ltd.
Microsoft Corporation
Oracle Corporation
Osram GmbH
SAP SE
Schneider Electric SE
Siemens AG
Telensa
Verizon
Vodafone Group plc

Order a sample PFD (free) of the Smart Cities Market Intelligence Study, published by Grand View Research.
About Grand View Research
Grand View Research is a full-time market research and consulting company registered in San Francisco, California. The company fully offers market reports, both customized and syndicates, based on intense data analysis. It also offers consulting services to business communities and academic institutions and helps them understand the global and business scenario to a significant extent. The company operates across multitude of domains such as Chemicals, Materials, Food and Beverages, Consumer Goods, Healthcare, and Information Technology to offer consulting services.
Web: https://www.grandviewresearch.com
Media Contact
Company Name: Grand View Research, Inc.
Contact Person: Sherry James, Corporate Sales Specialist – U.S.A.
Email: Send Email
Phone: 1888202951
Address:Grand View Research, Inc. 201 Spear Street 1100 San Francisco, CA 94105, United States
City: San Francisco
State: California
Country: United States
Website: https://www.grandviewresearch.com/industry-analysis/smart-cities-market