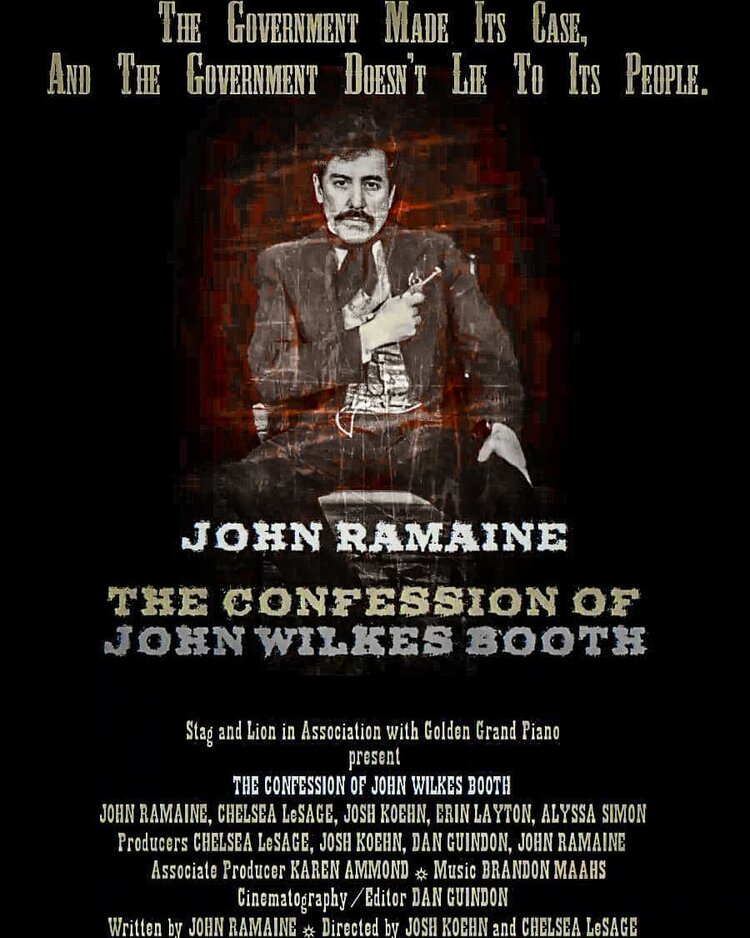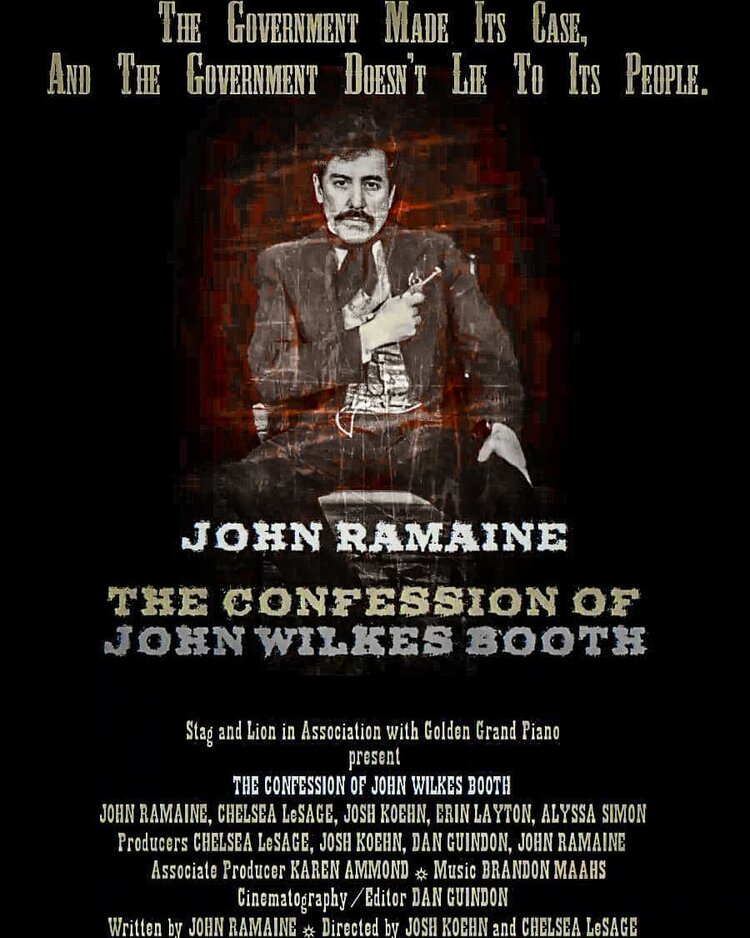 New York, NY – March 1, 2022 – The Confession of John Wilkes Booth a cinematic presentation of a staged theatrical event, is streaming on multiple locations, Tubi, Overdrive, IBCN TV, Xumo, Vimeo, and Popsy on plex. Each streaming service is reporting high viewership of this spectacular production.
Written by and starring John Ramaine, stage directed by Josh Koehn of Stag and Lion, and Actor-Director, Chelsea LeSage of Golden Grand Piano. Produced by Chelsea LeSage, Josh Koehn, Dan Guindon, John Ramaine, and music by Brandon Maahs.
With a growing fan base and many positive reviews, the film is now in development for a feature film. The production company, LITTLE DUTCHESS FILMS, led by Mindy Meriweather Morton and Tony London producers, are formulating the development of the feature film version of the Booth saga titled, THUS ALWAYS TO TYRANTS.
"I was mesmerized by the stage to film production film of The Confession of John Wilkes Booth, the acting, the costumes, and the storylines are riveting," – Scott T, NJ.
The Confession of John Wilkes Booth stars John Ramaine as John Wilkes Booth, Josh Koehn as John Frederick May John, and Chelsea LeSage as Lucy Hale, John Wilkes Booth's lover.
"As a director and an actor, I feel incredibly grateful that John trusted me with this story. My cast and crew blew me away and I believe that everyone who watches this film will be shocked and moved at their performances and what really happened in the life of John Wilkes Booth." – Chelsea LeSage.
The story takes place thirty-eight years after Booth's alleged death. On the last day of his life, Booth weaves a fascinating account of a government conspiracy to cover up the truth on the assassination of Abraham Lincoln. The story of Lincoln's assassination is an absorbing subject matter that people just don't get tired of hearing about. This particular narrative has never been fully examined and we thoroughly go into the possibility that the urban legend of Booth's survival is true. The viewers will be drawn to this enthralling storyline.
"The Confession of John Wilkes Booth provides a twist that history refuses to acknowledge. It raises importance to particular events that may prove controversial. As in any retelling of history, art leads the way. The production has received the blessing of the surviving Booth relatives so I felt motivated to complete the project," stated John Ramaine.
The Confession of John Wilkes Booth production team includes:
Chelsea LeSage & Dan Guindon are with Golden Grand Piano that put the production together, shot & edited The Confession of John Wilkes Booth.
John Ramaine provided logistical expertise, the content, and his creative interpretation of the subject and character.
Josh Koehn of Stag and Lion Productions is the executive producer who provided the space and costumes.
About Golden Grand Piano
In May of 2020, Chelsea LeSage and Dan Guindon partnered to create Golden Grand Piano, a production company determined to help indie producers, writers and actors realize their creative dreams in the film industry. With their combined thirty-three years of production experience, Chelsea and Dan insert their knowledge and talent into projects like The Confession of John Wilkes Booth among many others.
For more information visit: Johnwilkesbooththemovie.com
The Confession of John Wilkes Booth Trailer: https://youtu.be/KNCfETgcdxM
Visit: www.johnramaine.com & www.chelsealesage.com
Media Contact
Company Name: KBC Media
Contact Person: Karen Ammond
Email: Send Email
Phone: 917-379-1430
Address:230 Kings Highway E Suite 121
City: Haddonfield
State: NJ
Country: United States
Website: https://ajosephlayonmd.com/