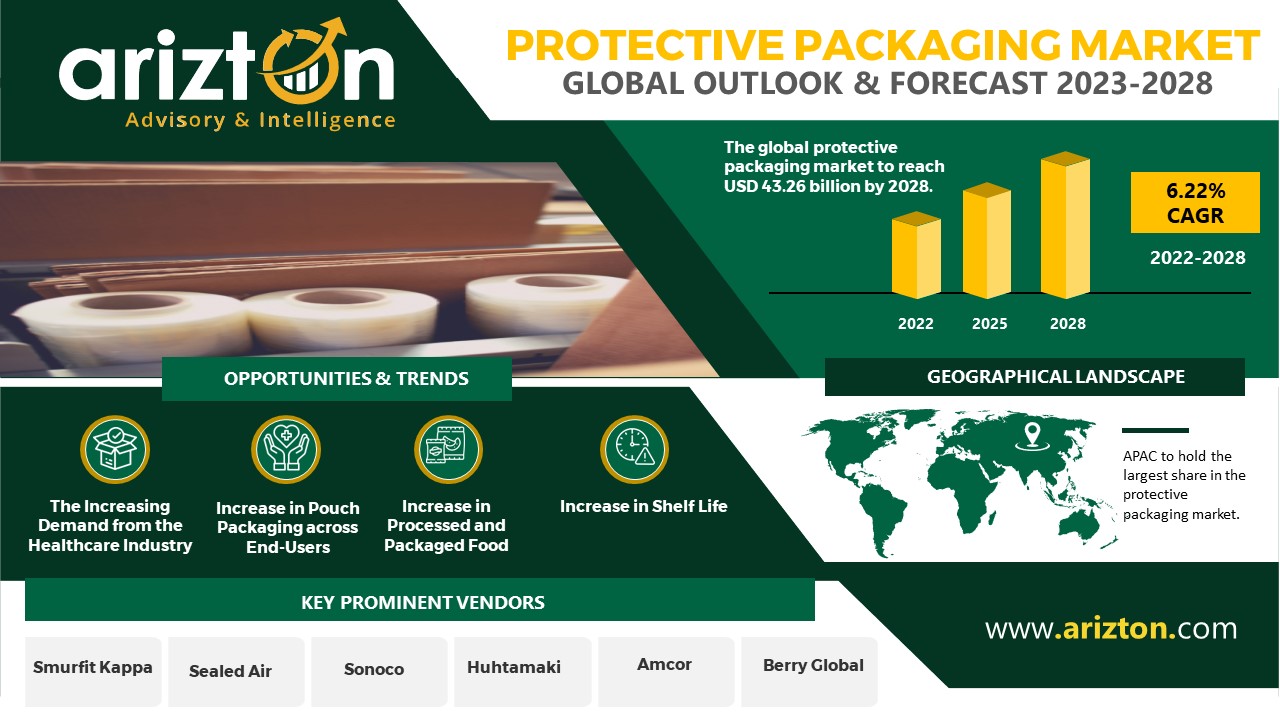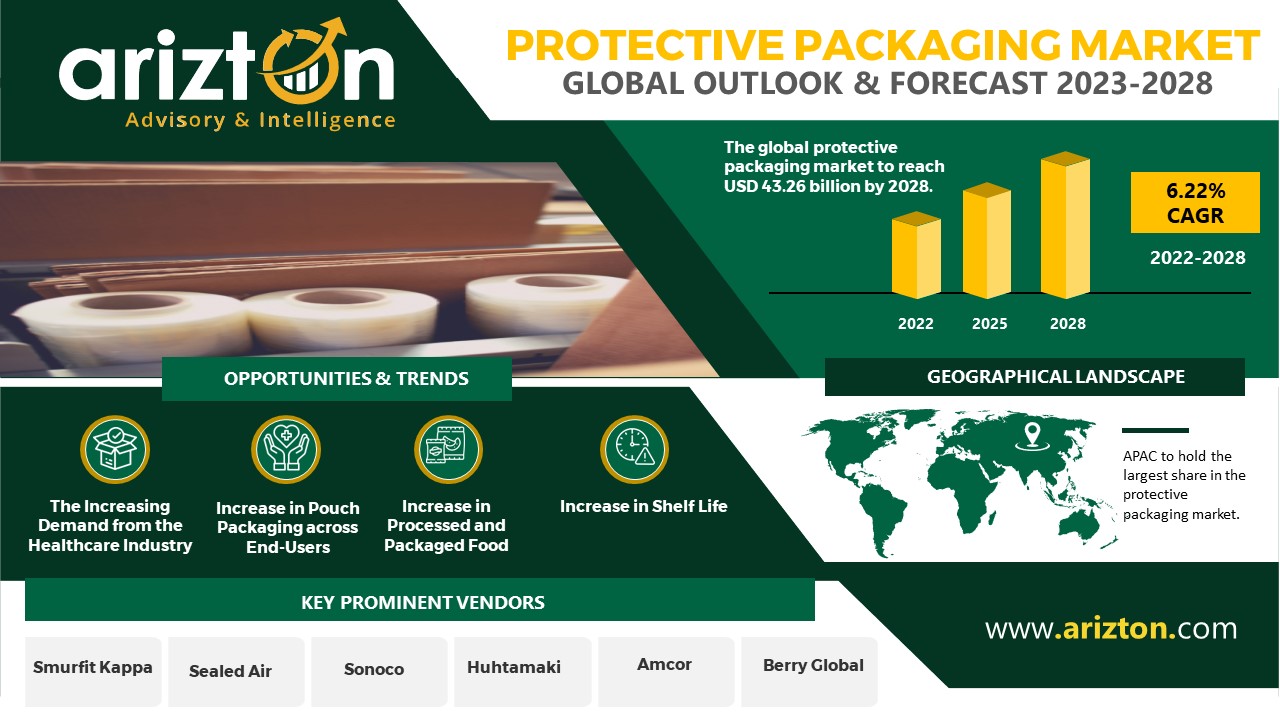 Browse 121 market data Tables and 118 Figures spread through 378 Pages and in-depth TOC on the "Protective Packaging Market".
Industry Analysis Report, Regional Outlook, Growth Potential, Price Trends, Competitive Market Share & Forecast 2023–2028.
The global protective packaging market was valued at USD 30.12 billion in 2022 and is expected to reach USD 43.26 billion by 2028, growing at a CAGR of 6.22% during 2022-2028.
The protective packaging sector is undergoing a significant transformation to meet consumers' evolving demands and preferences. In the past, the primary objective of packaging was to safeguard products during transportation. However, thanks to advancements in packaging machinery and materials, the packaging industry now has the capacity to address a wide range of requirements, including extending the shelf life of goods, enhancing brand visibility, and ensuring compliance with regulations, among other factors. This industry is characterized by its diversity, encompassing various packaging types and materials. The introduction of plastic packaging has opened up substantial opportunities for brands to experiment with different materials. The foremost concerns in this dynamic field revolve around convenience, product safety, product differentiation, and fostering innovation.
To Know More, Download the Free Sample Report: https://www.arizton.com/request-sample/3961
In recent years, e-commerce has experienced remarkable sales growth, paralleled by a notable evolution in packaging for e-commerce shipments. This evolution has brought forth a more comprehensive array of choices for e-retailers and elevated levels of convenience for consumers.
The unique attributes of protective packaging can provide opportunities to tackle some of e-commerce's largest sustainability challenges. Less packaging and lightweight materials, such as paper bags and protective films, result in lightweight shipments and a significant cost-saving opportunity for many e-commerce retailers such as F&B retail. Since e-commerce evolves around distribution channels, safety, and efficiency are the most important issues in the transportation industry. Due to this, product quality and safety are the major concerns. Protective packaging is being positioned as one of the key solutions to meet these goals.
Buy this Report Now @ https://www.arizton.com/market-reports/protective-packaging-market
Geographical Analysis
In Europe, all the market segments are undergoing significant growth in protective packaging. Smaller households need single-serve options, and consumers significantly demand more product selections. This supports the general trend from rigid to protective packaging, providing greater convenience and fitting in better with current lifestyle needs. Innovative, protective packaging styles are meeting the trend for more convenience. High-volume trade countries such as Germany and France are expected to face challenges with Brexit, apart from countries such as Belgium and the Netherlands. The Brexit deal is expected to be disruptive during the forecast period when it is finalized. The packaging industry witnessed the highest consumption of plastics in 2022. The competition in Europe is intense on account of the highly fragmented market. Differentiation is the key factor for vendors operating in the low-cost, protective packaging market.
Market Dynamics
The Increasing Demand from the Healthcare Industry
Demand for Lightweight Products
Increase in Pouch Packaging across End-Users
Increase in Processed and Packaged Food
Increase in Shelf Life
Awareness in Cosmetics & Personal Care Industry
Key Company Profiles
Sonoco
Huhtamaki
Amcor
Berry Global
Mondi
TC Transcontinental
Constantia Protectives
Ahlstrom
Greif
WestRock
Alu Flex Pack
Aptar Group
Alinvest
Aran Group
Aluberg
American Packaging Corporation
Bischof+Klein
Bioplast
Carcano
Danaflex
Printpack
ProAmpac
Wipak Group
Saica
Etapak
Innovia Films
Uflex
International Paper
Reynolds Group
Novolex
Sigma Plastics
Glenroy
Symetal
Krajcar Pack
ITP
Gascogne Protective
Schur Protectives
Schmid and Folien
RKW
Pouch Partners
Perlen Packaging
Goglio Packaging
Kleiner Protective Packaging
Winpak
Stora Enso
Global-Pak
Di Mauro
Eurofoil
Gerosa Group
LEEB Protectives
Polypak Packaging
PPG
Walki
All4Labels
SIG Combibloc Group
Ringmetall SE
The Reflex Group
Dazpak Protective Packaging
Market Segmentation
Material
Protective Plastic
Protective Paper
Protective Foil
Type
Flexible Protective Packaging
Foam Protective Packaging
Rigid Protective Packaging
Application
Industrial Packaging
Healthcare
Personal Care
Geography
China
India
Australia
Japan
South Korea
Italy
Benelux
Spain
Rest of Europe
Saudi Arabia
South Africa
The UAE
Key Questions Answered in the Report: 
How big is the protective packaging market?
What is the growth rate of the global protective packaging market?
What are the growing trends in the protective packaging industry?
Which region holds the most significant global protective packaging market share?
Who are the key players in the global protective packaging market?
About Us:     
Arizton Advisory and Intelligence is an innovative and quality-driven firm that offers cutting-edge research solutions to clients worldwide. We excel in providing comprehensive market intelligence reports and advisory and consulting services.         
We offer comprehensive market research reports on consumer goods & retail technology, automotive and mobility, smart tech, healthcare, life sciences, industrial machinery, chemicals, materials, I.T. and media, logistics, and packaging. These reports contain detailed industry analysis, market size, share, growth drivers, and trend forecasts.      
Arizton comprises a team of exuberant and well-experienced analysts who have mastered generating incisive reports. Our specialist analysts possess exemplary skills in market research. We train our team in advanced research practices, techniques, and ethics to outperform in fabricating impregnable research reports. 
Media Contact
Company Name: Arizton Advisory & Intelligence
Contact Person: Jessica
Email: Send Email
Phone:   +1 302 469 0707
Country: United States
Website: https://www.arizton.com/market-reports/protective-packaging-market