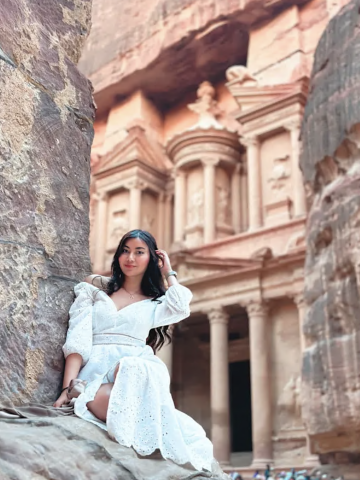 People looking for a travel destination or planning to visit Petra, Jordan will find helpful recommendations and tips from Mary Andaya's IG page as she has shared some of her findings following her recent visit
Travel bloggers and influencers are a source of inspiration for many who want to explore new places or need information about a place they plan on visiting. Mary Andaya is one travel blogger who takes pride in what she does and churns out helpful, bit-sized tips for people who need help deciding their next travel location. Today, she has shared insights into her discoveries after her recent visit to Petra in Jordan. As is her custom, Mary Andaya made a post on her Instagram page where she posed in front of a famous site in Petra, sharing some of the important things for visitors to note when coming to Petra.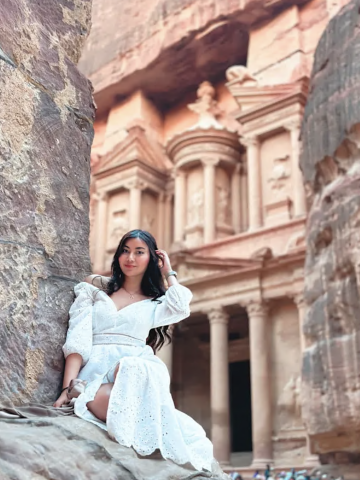 In her post, Mary cited that the Petra Entrance fee for one day was 50 JOD which is equivalent to $70 and 55 JOD for two days. While there is the temptation to pay for two days, Mary advises travelers to go with the one-day option as it is enough to find out everything there's to know about Petra. Mary also admonishes travelers to always go to the visitor's center for guides and tours instead of contracting individuals at the parking lot in front of the site.
Petra is a historical archaeological site in Jordan's southwestern desert. Half-built and half-carved into the rock, Petra is surrounded by mountains riddled with passages and gorges. It is one of the world's most famous archaeological sites, where ancient Eastern traditions blend with Hellenistic architecture. Presently, the only modes of transportation in and around the site are horses, donkeys, and camels. The rides are free but the operators are heavy on being tipped.
Speaking about tipping operators, Mary Andaya had this to say, "You have to be financially prepared if you want to make use of the transport modes available. However, in my opinion, it is better to just walk and enjoy the beauty of the Siq."
From the entrance to the famous treasury is 1.2km, about an hour and a half walk along the Siq. Mary advises travelers to bring some JOD cash, water, snacks, sunscreens, bandanas, and good cameras as they would have the most memorable experience visiting Petra. To see Mary Andaya's Instagram post on her visit to Petra, please visit https://www.instagram.com/p/Cn-Wp5Zy6pF/.
For those looking to visit Petra, United Airlines flies to Amman, Jordan three times a week from Washington Dulles. Visitors can either hire taxis or get a bus to Petra and explore the beautiful archaeological site. For more information, email maryandaya@ymail.com.
Media Contact
Company Name: Mary Andaya
Contact Person: Media Relations
Email: Send Email
Phone: +17144714986
Country: United States
Website: http://instagram.com/maryxndaya