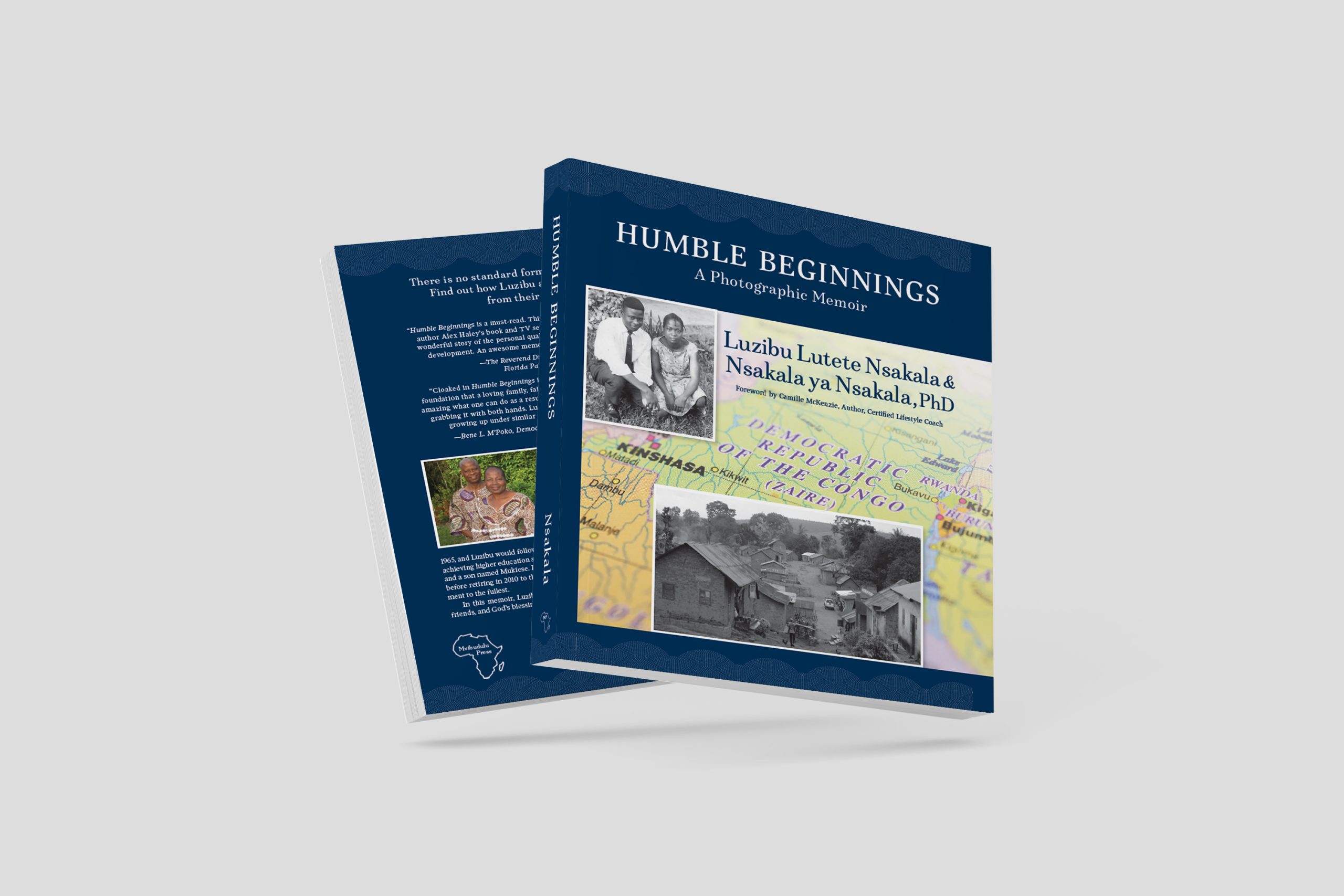 The path travelled is surgically chronicled through photos and narration that collectively describe an inspirational, informative, and honest journey.
Few people come across our paths who embody love and acceptance that is pure and honest as the Nsakala's do. Their lives are a testament to the power of faith, family, and friendship. Additionally, the lives of Luzibu and Nsakala are also a reminder of the necessity and power of gratitude to God for every blessing that we have received, every relationship we have been privileged to have, and every opportunity that has been given to us.
"To be sure, Luzibu and Nsakala's journey together for over five decades has been filled with events that have brought tears of both joy and sorrow. While some of the events that brought, for the most part,tears of joy have been duly illustrated in the memoir, some that brought tears of sorrow have not."
The book title "Humble Beginnings; A photographic Memoir" outlines a reality-based story of two lives that are well lived!
Happiness has been a shape shifter and a balance of religion, work, travel, and charity, can act like a rainbow of sorts, at least that's what the Nsakalas believed as they took on challenges one by one with a spirit that knocked the heaven's door, and an acute sense of humor to make the knock-knock jokes on that same door.
It's a book that shows how hard work, persistence, support from family and friends, and God's grace, are tools for a person to achieve a high degree of success irrespective of their first station in life.
The life stories of Luzibu and Nsakala began in humble villages in the now Democratic Republic of the Congo. As you will further delve deep into the memoir, you will realize that these villages today still lack electricity, indoor plumbing, running water, paved roads, Wi-Fi drops, and amenities that many people in the Western world take for granted.
That is exactly what Nsakalas left as they moved to the United States. They left the simple world to experience both the beauty and the challenges that come hand in hand when you move to another country. They experienced numerous breakthroughs and many cultural barriers to achieving the life they dreamed of. It was not easy, mind you. But in the course of their journey, their faith in God and each other, along with the help of many Good Samaritans, produced a remarkable life!
For more information, please visit www.Kumakanga.press
Media Contact
Company Name: Book Writing Founders
Contact Person: Daniel Hardy
Email: Send Email
Country: United States
Website: https://www.bookwritingfounders.com/