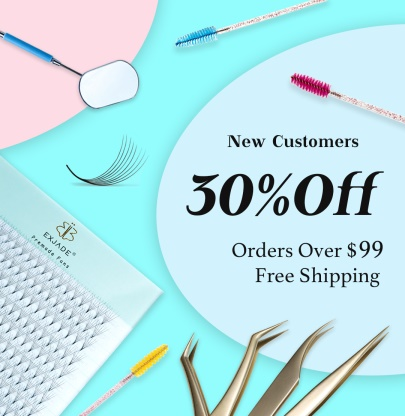 "ExJade announces a promo event for one of its popular eyelashes collections, namely premium eyelashes extension. The promo offers $2.00 off for all products in this collection."
ExJade, an eyelash specialist has launched its regular event that they have been holding for years. This is the promo code for a new eyelash collection. This time, the promo event is available for the individual eyelash extensions collection. The amount of price off during this event is $2.00. This discount applies to all eyelash extension products in this latest collection. This means that customers have the opportunity to get premium eyelash extensions at much lower prices than its original price. The type of product in this collection is still the same as before. The size range is between 0.03 mm to 0.25 mm. All products here are available in the 16 rows of volume. No new color added. However, knowing ExJade is constantly launching new and innovative products, there is a high possibility that colorful eyelash extensions could be released in the future.
Promo events and launching of new collections are one of the events that customers can meet every year at ExJade. This store is one of the top eyelash suppliers. Not only for local customers, but this company also offers worldwide services for many eyelash stores and companies from other countries. ExJade provides various eyelash products that are suitable for multiple purposes and styles. In addition to premium eyelash extensions, the customer can also find premade fans, colorful eyelashes, and many more. This store even sells eyelash accessories. More importantly, ExJade makes the entire eyelashes product they sell. So, they can ensure the quality and design match with the customer's expectations.
ExJade CEO explained, "Promotional events or discounts, also our affordable prices for all eyelash products is the reward for our customer loyalty. We believe that high-quality products and the best service are not only the ingredients to keep our customers happy and loyal. A discount or promo event like this, especially for a premium product like the eyelashes extension, is necessary to keep our relationship last longer. Of course, we also feel happy and grateful for it. Therefore, we will continue to improve and provide the best for our customers, both for the quality and variety of our products, as well as our services." More information about ExJade and all eyelash products is available through the link below.
Media Contact
Company Name: Exjade lashes Cosmetic Co.,LTD
Contact Person: Monica
Email: Send Email
Phone: +8619862203380
Country: China
Website: https://www.ejlashes.com/