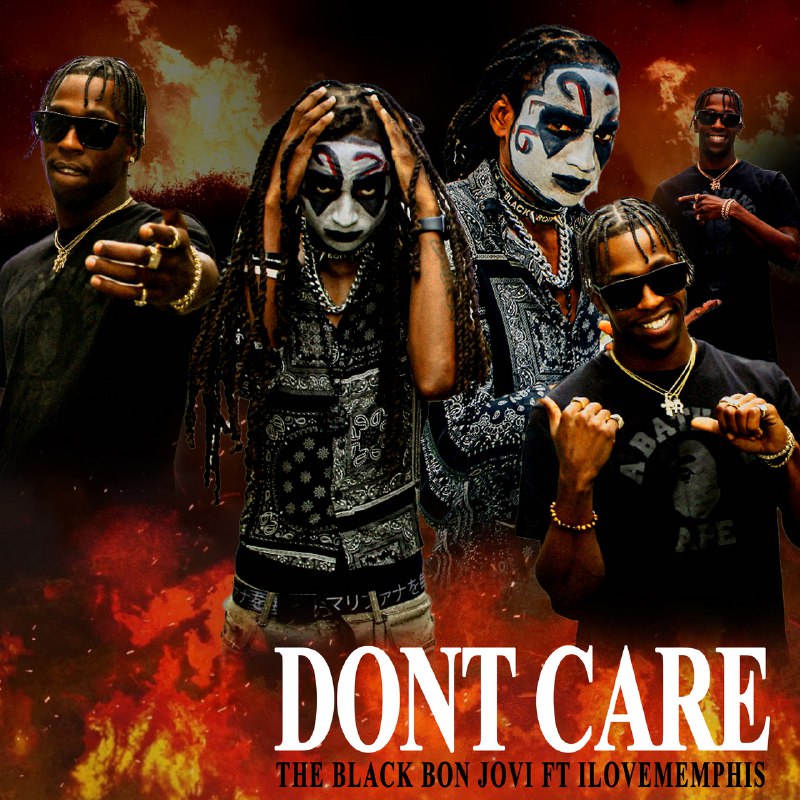 Los Angeles – July 3, 2023 – Renowned artists The Black Bon Jovi and I Heart Memphis have made an electrifying decision marking a pivotal moment in their respective careers. Together, they are set to embark on an ambitious new venture, uniting their creative forces to ignite a ground breaking collective project that promises to captivate audiences worldwide.
Having amassed a devoted following and leaving an indelible mark on the music industry, The Black Bon Jovi and I Heart Memphis have continuously pushed boundaries, transcending genres and redefining what it means to be true musical innovators. Their decision to forge a path of independence is a testament to their artistic vision, unwavering dedication, and commitment to delivering exceptional entertainment.
The collective project entitled "DONT CARE" is currently scheduled to drop on all social media outlets on the 4th of July at midnight will be available for purchase. They single "DONT CARE" Is poised to be a monumental celebration of their combined talents, showcasing their distinctive styles, electrifying performances, and thought-provoking lyrical prowess. As two extraordinary forces in the music world, their collaboration is set to captivate listeners and break down barriers, offering an unparalleled musical experience that transcends expectations.
The Black Bon Jovi is known for his commanding presence, soul-stirring vocals, and unparalleled stage energy, has thrilled audiences across the globe. With hits that resonate deeply and lyrics that resonate on a personal level, The Black Bon Jovi has earned a reputation as an artist who fearlessly tackles social issues, inviting listeners to engage in profound conversations through his music.
I Heart Memphis, a dynamic and charismatic performer, has etched his name in the industry with his infectious energy, unforgettable dance moves, and chart-topping hits. From the viral sensation "Hit the Quan" to the widely acclaimed "Lean and Dabb," I Heart Memphis has consistently delivered anthems that inspire fans to let loose, have fun, and embrace their individuality.
As these musical powerhouses join forces, their shared vision takes shape, promising an innovative blend of soulful melodies, infectious beats, and thought-provoking lyrics that will resonate with listeners on a profound level. Fans and music enthusiasts alike can anticipate an immersive experience that transcends the boundaries of conventional genres, inviting them to join this groundbreaking musical journey.
Both The Black Bon Jovi and I Heart Memphis seize the opportunity to curate their artistic destinies and explore uncharted territories. This exciting collaboration underscores their determination to push boundaries, challenge thestatus quo, and leave an indelible legacy in the ever-evolving music landscape.
Stay tuned for updates on The Black Bon Jovi and I Heart Memphis's collective project, as they continue to make waves with their unparalleled talent and unwavering dedication to their craft. Together, they are poised to deliver an auditory experience that will leave fans hungry for more.
To learn more about both artist please follow them on Instagram
Ig@Theblackbonjovi
Ig@iheartmemphis
Media Contact
Email: Hiprocla@gmail.com
Media Contact
Company Name: Hip Roc La llc
Contact Person: Michael Jenkins
Email: Send Email
Country: United States
Website: www.instagram.com/Theblackbonjovi/